What instantly strikes the mind when you hear about content marketing.? I can bet 100 $ on that when you hear about "Content Marketing," you will surely think about blog posting, social media ads, Twitter, Instagram videos and posts, etc. But it's just a small aspect of content marketing. Content marketing isn't just finite to the internet. Its been around far longer than the internet. Content marketing is all about sharing ideas and storytelling, which our ancestors have done long before even before they could speak.
With advancements in technologies and introduction, the marketplace became a Warfield; the traditional marketing method became obsolete. It's what emanates the need for content marketing. Content marketing guidelines abets the business in attracting leads, generating sales, and growing the business.
Content Marketing Career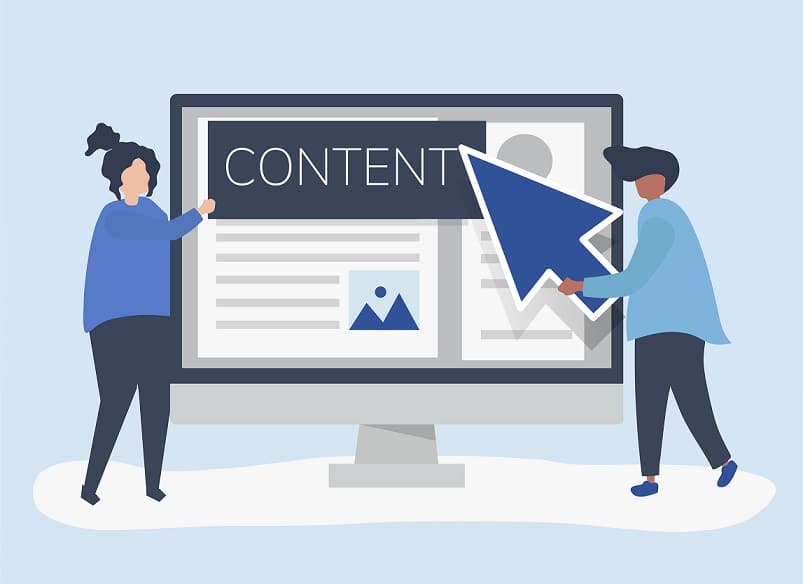 Till the last decade, folks dreamt of pursuing a career as a doctor, engineer, etc. But in today's modish and technologically advanced world, there are numerous career options available such as content marketing, Designers, etc.
Today your consumers, audience, leads are striving for valuable content from your business. And to satiate those needs, your content needs to reach your audience in a genuine, important, natural, without being disruptive. This can be done perfectly done by honing into effective content marketing strategies. By doing so, you can boost your brand awareness, elevates revenue, and establishes your brand.
Currently, engagement-driving and quality content is the focal point of every marketing industry. And there's a lot scope for a career in content marketing. Online business has been growing enormously over the past few decades. The need for quality content is tremendously growing year by year. This upswings the demand for qualified writers.
What is Content Marketing?
Content Marketing isn't just confined to producing quality content and then publishing it over several social medial channels. Alternatively, it's a strategic approach that enables the business to generate leads and convert them into profitable customers.
Some of the Popular Definitions of Content Marketing:  
"Content Marketing" is the practice of writing, publishing, and then sharing of quality content over several social media channels to build reputation and brand identity.
Content Marketing is a strategic marketing approach that uses content as its prominent tool to attract consumers, leads.
For many marketers, content marketing is just churning out a piece of content one and after. But it isn't the legitimate approach of using content marketing strategies to reach out to your consumers and grow your business. Without the right content marketing strategy, tactics, tools, you won't reap such benefits.
So how you just rescue yourself from wasting time over the wrong content marketing strategy? Whether you are struggling with your current content marketing approach or just starting fresh, you need to read these Content marketing guidelines.
The Importance of Content Marketing: Firstly, understand is content creation worth for your brand and business.
How Content Marketing Strategies Has Changed Over the Past Years: Determine how content marketing practices have evolved over the years and discover that the traditional, century-old fundamentals are relevant today.
Examples of Companies Doing Content Marketing: Do research about the companies who are performing content marketing and understand how well they are getting results from content marketing campaigns.
Tools for Campaigns: Learn for some of the best and proven tools for content marketing, SEO, and content creation. You even need engaging presentation slides to catch eyeballs of your audience. Checkout some of mesmerizing presentation graphics at our infographic PowerPoint gallery.
Content Marketing Strategies
Back in the year 1996, Bill Gates, in his essay, stated, "Content is the King." After that, less then a decade, his observation was widely quoted in the content marketing industry. Content marketing is a vibrant and most researched topic over the internet. Fake digital marketers have created hype over the topic and used content marketing keywords as a clickbait to get clicks over their content. Publishers have injected so much hyperbole and hearsay that it's really too hard to get real advice.
But here we have added a step by step guide which will assist you in designing your next content marketing campaign.
Set the Goals: Designing a content marketing campaign without goals is just like driving a car without GPS. You will get there at the end but will take a few wrong turns—even end-up wandering aimlessly, wasting time, efforts, and money. So set an aim, what you want to achieve.
Know Your Audience: The essential step of any marketing campaign is knowing about who you are targeting. Till will help you target your audience appropriately; if you target everyone, you will end targeting no one. So the initial get demographic data from the internet. This will give you an overview of your audience type, age, gender, income, etc.
Plan your Process: Planning is the key to the success of any process. To assign the duties of each step of the content marketing process:

Who is creating content?
Who is updating and maintaining content?
What resources needed for the campaign?
Who is publishing the content?
What's the publishing schedule?

Write a Blog: Blog is what drives most of the traffic. In fact, blogs are the centrepiece of any content marketing strategy. It's an essential marketing tool. Give enchanting look to your blog by adding splendid backgrounds. To get check out Design Templates here. If you don't have a blog, start one. If you want to get most out of your blogs, then you should write of the following ideas:

How to
Tutorials
Interviews
Expert Advice
Guidelines
Industry News and Updates

Audit Your Content: Seamlessly creating content with understanding what works for your brand and what attracts your consumer is an utter waste of time and resources. So to succeed in the era of mass content creation, a content audit can help you win. Let's consider there are more than 2 billion websites over the internet, more than 70 million posts being published over a month. That's really an immense amount of information. So collect all your content and analyze it. See which content gets the most click? Which attracts the most audience? And what improvements do you need?
Do Research and Write Topic: One of the crucial parts of writing content is doing research. Writing about what you prefer won't captivate your audience. Using keywords, people search for content online. You may use tools like Keywords Everywhere to find a vibrant keyword for a topic.
Why is Content Marketing Important?
Want to reap mot benefits from your marketing, then content marketing campaigns will be the right choice for you. Till now, you might have mastered in content marketing. But still, if you haven't invested in content marketing, then you are skeptical of long-term benefits or might be constricted to follow old traditional ways of marketing.
Some of the Benefits of Content Marketing:
Publishing informative, valuable, and well-researched information makes your brand trustworthy. And once the audience starts relying on your information, they are likely to buy from you.
Reach Out Potential Audience: The audience is likely to click on genuine search results than the ads. Using content rather then advertising helps you to reach the potential consumers who avoid traditional advertisements.
Increase Website Traffic: Google values unique content. Quality content draws the audience to the website. After then, you can persuade them to register or buy.
The methods used to develop, publish, and share content continually changes, but the core remains the same – develop a top-notch content marketing strategy. The upshot of the content marketing guidelines discussed above can abet you in designing a perfect digital marketing campaign. Remember, "Content is the King," "Content is Everything" if you have quality content, it will surely stimulate your audience.