A lot has changed in the world we live in. You won't deny the fact that we live in an extremely digitalized world. The Internet has now become indispensable in our lives. Now our lives gravitate towards the world of the internet and technology. The internet immensely influences our schedule. Almost everything we do on a daily routine requires internet connectivity.
While it's a boon for humans as it offers a boost in connectivity and enhances communication, it's associated with the risks.
Millions of cyberattacks take place yearly, and it became more frequent as the world is now more connected to technology. Being an IT professional, you might have heard about a series of cyber-attacks at Google China, known as Operation Aurora. The malware attack stole intellectual property from Google. The cyberattack doesn't just target Google; it was reported 30 major MNC's also fell to the targeted attack. The attack was aimed to gain access to the accounts of Chinese activists.
''IoT Without Security = Internet of Threats'' - Shephane Nappo
In today's tech-savvy world, our confidential information isn't secure; privacy is threatened and even compromised. Our data are more exposed to attacks than before. Protecting data and securing networks from malware attacks has become a prominent need of the organization.
With the widespread use of modern technologies, the world has witnessed a rise in malware attacks and data breaching. This has eventually spiked the need for cybersecurity.
For a digitally safer world, cybersecurity plays a dominant role. Nowadays, every business relies on technologies for day-to-day operations like data sharing, storage, operations, management, etc. So, whether you are an IT professional, business executive, or any individuals associated with networking or cybersecurity. Understanding the importance of cybersecurity and its awareness is a must.
Best Cybersecurity PowerPoint Templates to Download
Do you want to make decisions related to data-security or any other security concerns and get management approval? Or just want to educate the audience about the subject in an interesting manner. Then you need an exquisite set of presentation templates that visualize your information in the most magnificent way. To save your time and efforts to great extend here, we have added 10+ cybersecurity PowerPoint templates hand-picked by our expert designers.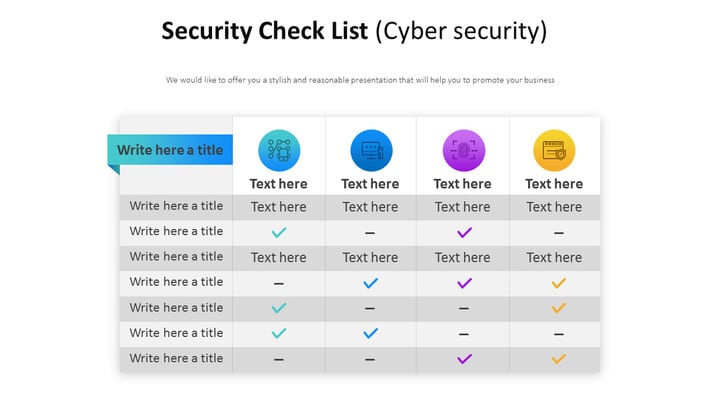 Security (Cyber-Security) is the top-most concern of organizations these days. This security checklist diagram keeps track of every security process and ensures that every security procedure is undertaken precisely.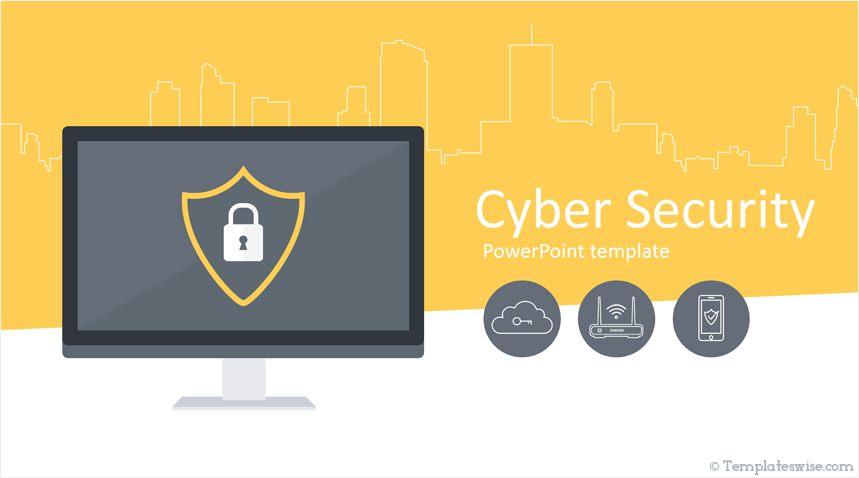 The Internet and technology have provided businesses with numerous tools to boost their marketing and productivity. Even though it can be termed as a double-edged sword. While it certainly opens several channels to diversify the business. On the flip side, it opens up users to cybercrimes and the internet community's dark side. Hence it's necessary to teach new-users about cyber-security. Using these free cybersecurity lessons PowerPoint templates discuss concerns related to IT security, types of malware attacks, and much more.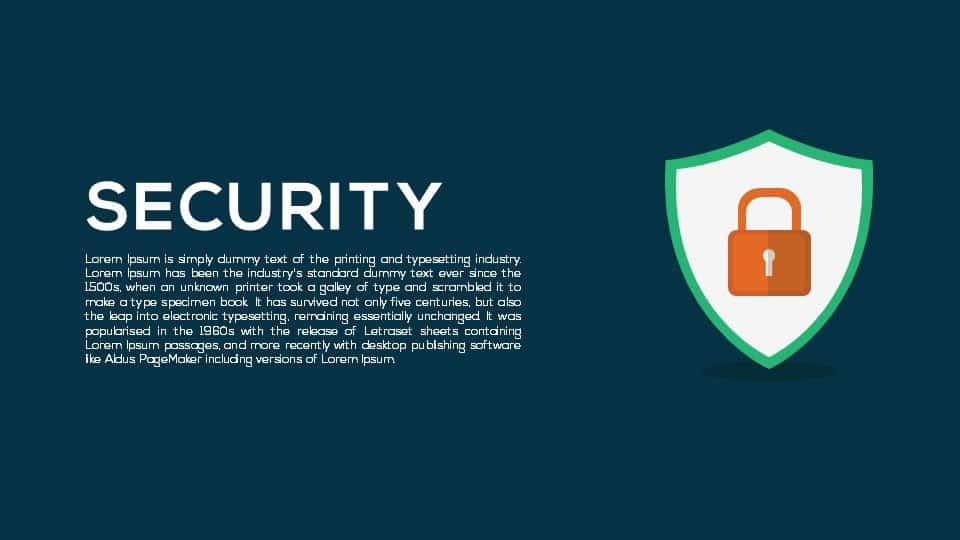 As we shift towards a digitalized world, the threat of malware attacks and cyber crimes is getting evolved. Businesses these days share information, project details with their clients globally. Moreover, army & defense officials share confidential information's via the internet. All these stimulate attention towards cyber-security. Now the importance of cybersecurity can't be denied. Elaborate the vast topic of cybersecurity between your teams, management, clients using these cybersecurity PowerPoint templates.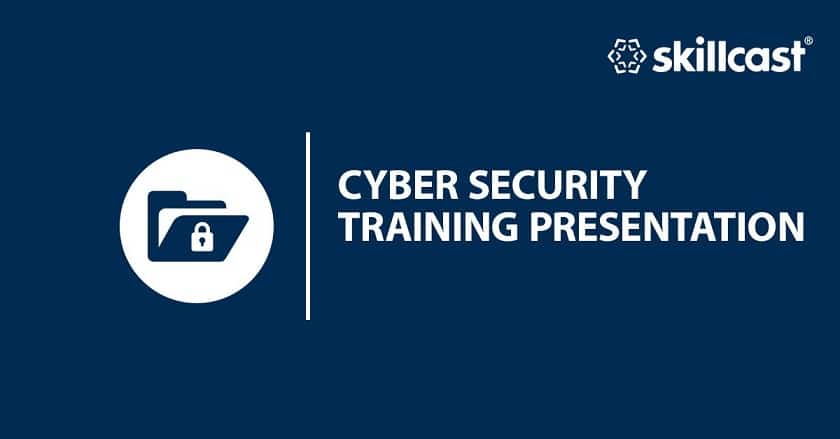 Cyber Security is a term related to protecting computer systems, hardware, software, and data from malware attacks. With this information security PowerPoint templates in your presentation, divert your audience focus on subjects like cyber crimes and cyber ethics.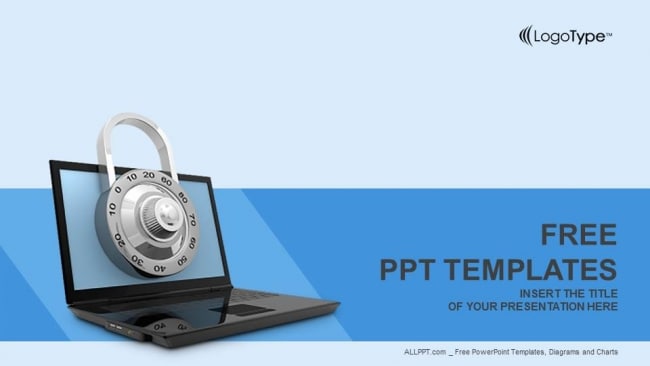 Do you want to create a presentation on the subject of cyber-security to market your products related to security software or just want to educate your teams about security threats. Then these free security start-up presentation templates perfectly fit with your presentation topic.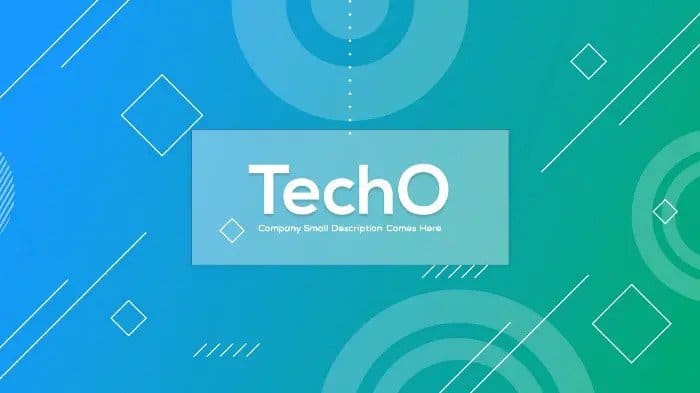 TechO free PowerPoint template is a modern presentation theme with a security-related illustration. This premium pitch deck template comes with 15 amazingly designed slides. Use them over the next presentation to conduct cybersecurity awareness workshops, introduce security systems, and much more.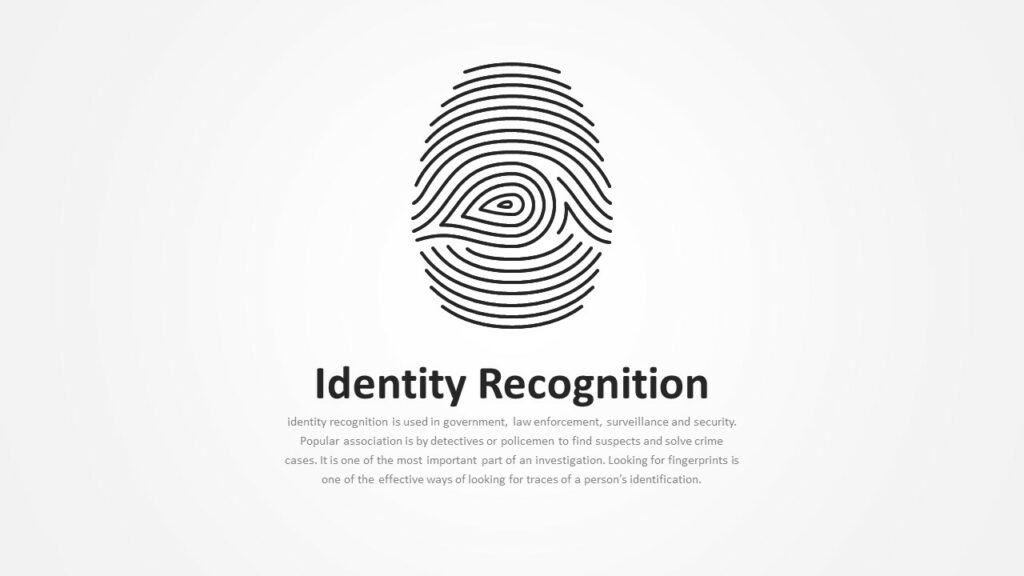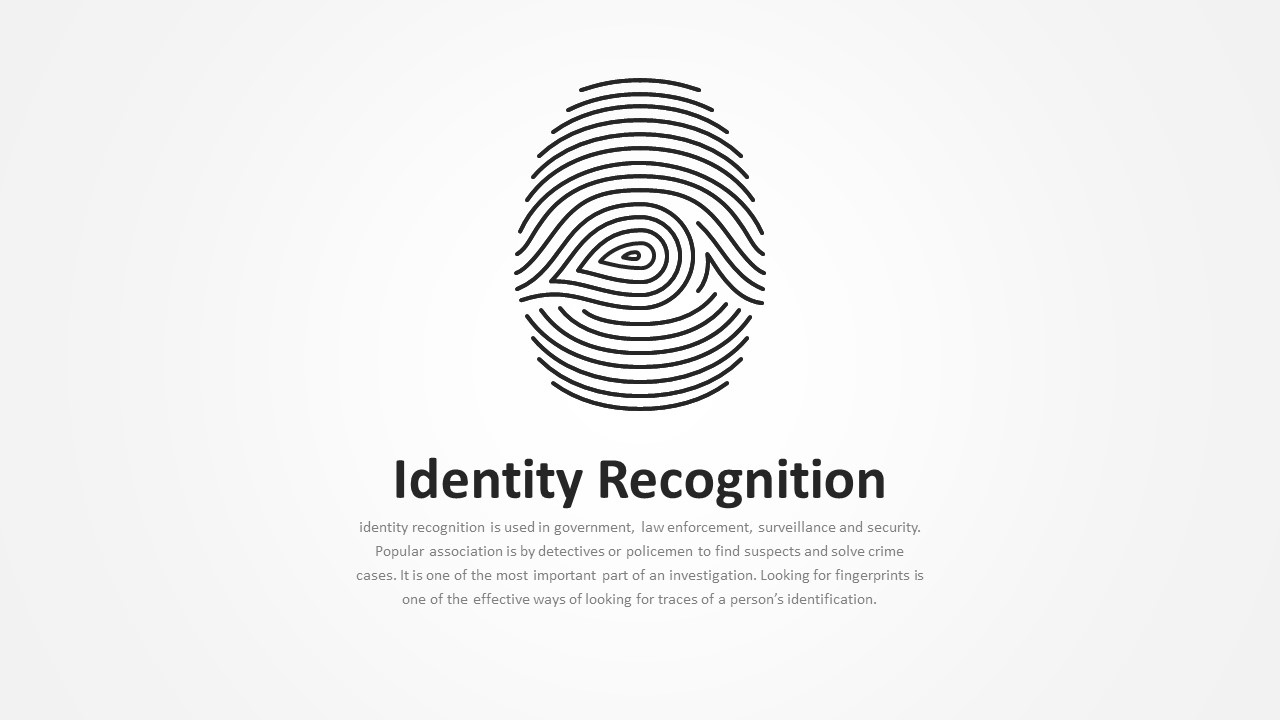 Most nations use bio-metric identification as a prime identification mark for security concerns. Out of face recognition and voice recognition, a fingerprint is the most widely used technique for individuals' bio-metric identification. Identify recognition is the most common technique to record the attendance of the employees. Corporate offices use a punching system to track the employees' work time and register the entry history of staff. Download these identity recognition PowerPoint templates to highlight the importance of bio metric identification in your presentation.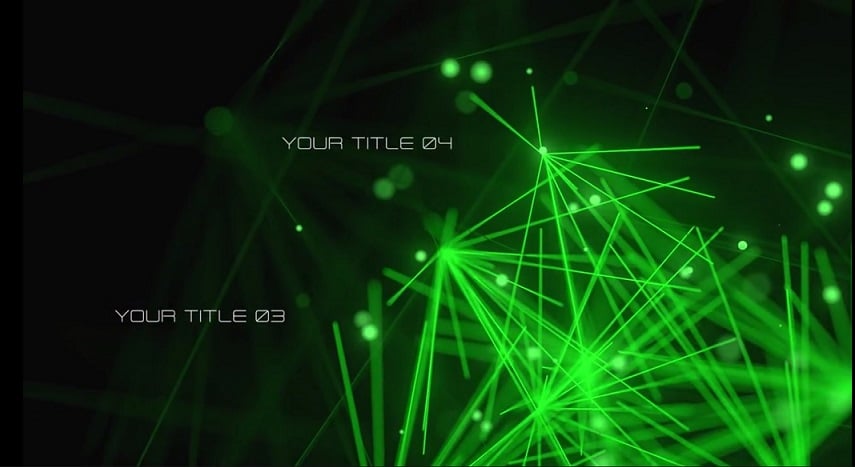 When it comes to a corporate business presentation, don't just rely on free random templates you get over the web. Here we have cybersecurity premiere pro templates that are a technologically advanced premium presentation template that enables you to curate presentations with attractive animations, digital text, and abstract backgrounds. So, what you are waiting for instantly download these cyber security PowerPoint templates and spellbind your audience.
Conclusion
The world we are living today is more exposed to cyber threats and malware attacks. The more we are associated with the internet and technology, the more we need effective cybersecurity techniques to safeguard data and information.
Start-ups, banks, netizens are more vulnerable to cyber-attacks. Hence if the professionals are trained and educated on avoiding exposure to cyber-attacks, the risks associated can be minimized and even eliminated.
Download these cybersecurity PowerPoint templates and emphasize the importance of a well-established cyber-security system. If you want more Free PowerPoint templates, then comment down below.