Project management strategies are efficacious because it ensures that what is being delivered is right and will deliver the right value against the business opportunity. It abets the organizations to get max return using the minimum resources, helps to cut the costings, and enhances team members' productivity.
When we know about project management tools, the next question that arises to mind is which tool to use? You might have looked at numerous project management tools or software in the past. Then you might have got overwhelmed by the cost of buying these programs. Well then, these free Google slides Gantt chart templates are just what you need to get started.
Best Gantt Chart Google Slides Templates, which are editable in Google Sheets
No matter which profession, you can always use gantt chart google sheets to give complete knowledge on organizing multiple information immaculately.
To ease your burden of creating Gantt charts manually, we have listed some best Gantt chart templates. Using which you can manage projects without any hassle.
So let's get started and check few coolest Gantt charts: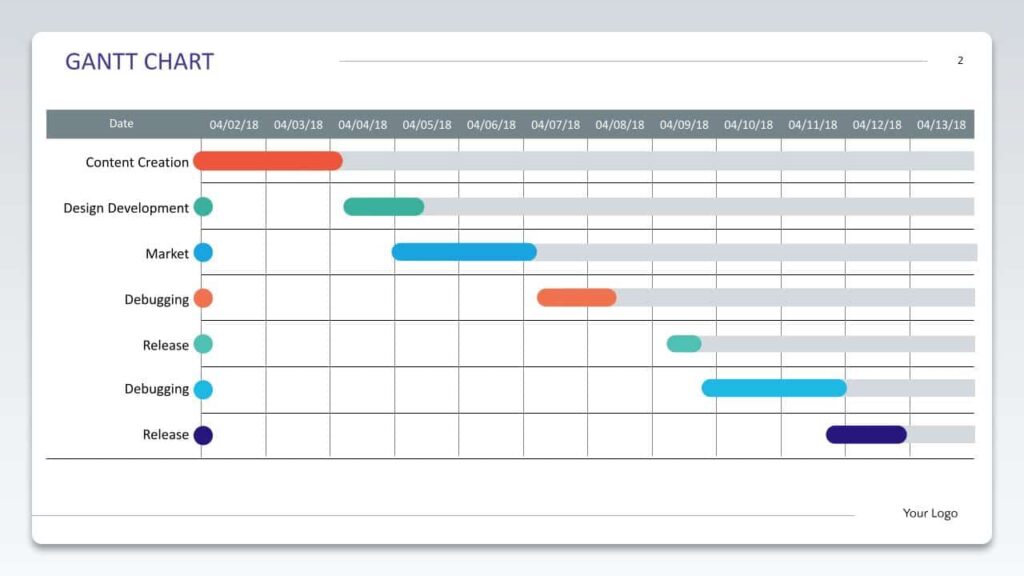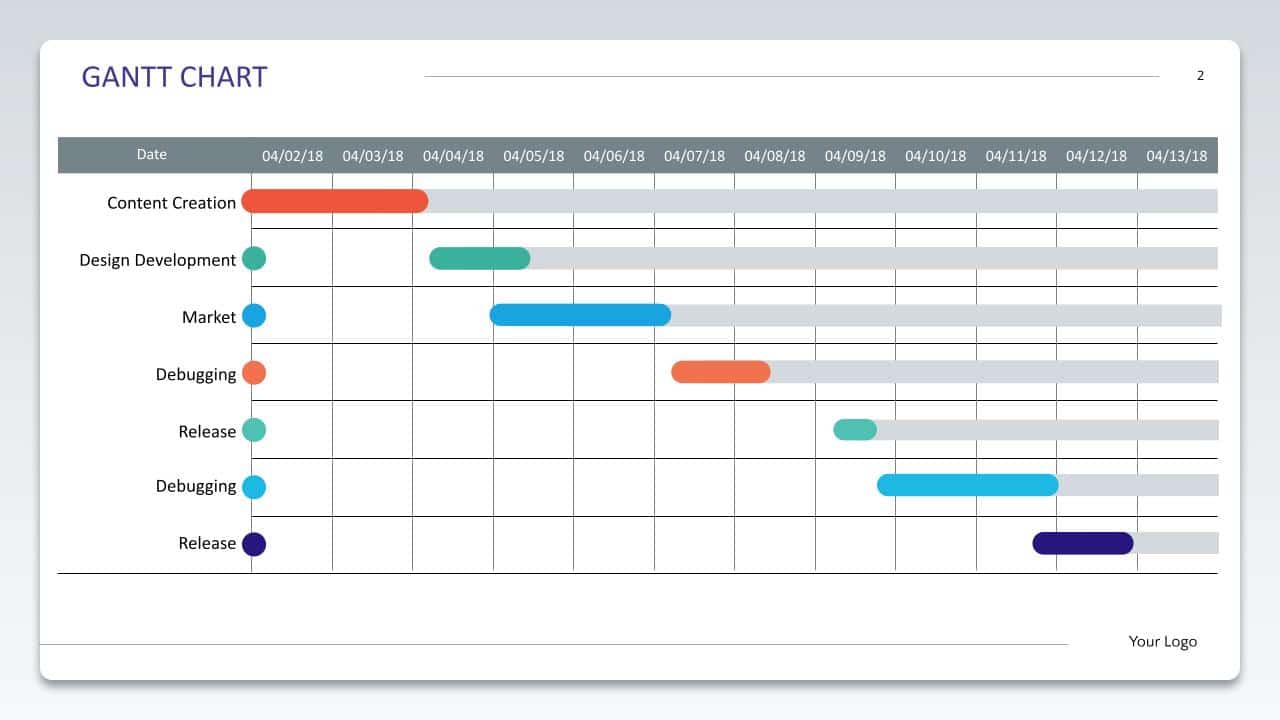 Gantt charts serve as the desired model when it comes to project management. It is a wonderful tool to analyze and organizing time. It enables the project managers to give a strategic, high-level view of a project. Using these Google sheets Gantt charts, you can identify ongoing tasks, resources required for the project and share due dates for project completion.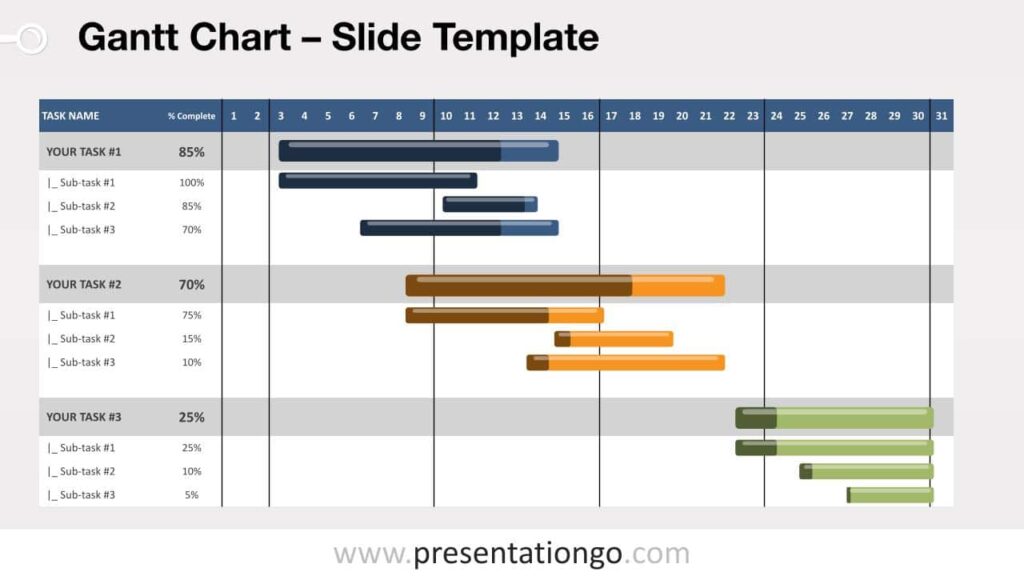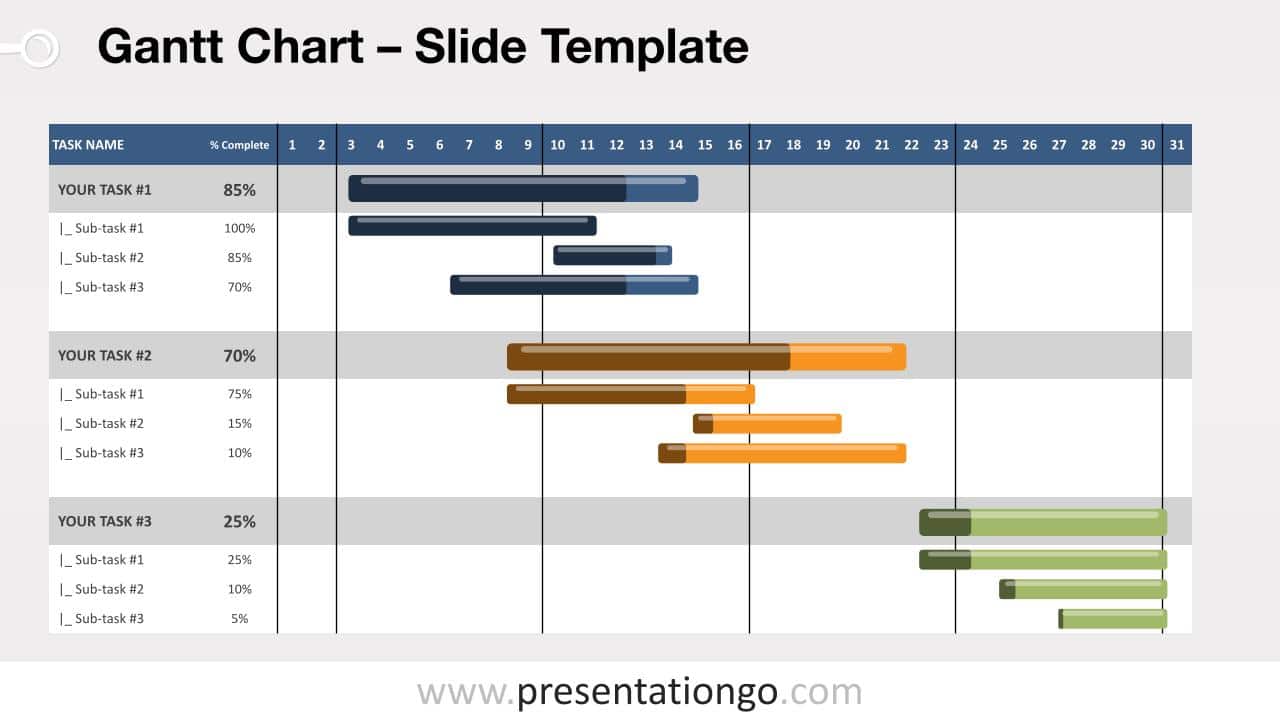 Get these project status Gantt chart Google slides and PowerPoint templates and feature your project status and information understandably and compellingly. Deliver an exceptional project presentation that wins over your clients, and investors. In these Gantt sheets, you can monitor multiple projects at a time, and highlight their conception and completion date. This project's status-free Gantt slide is available in two layouts, light and dark. Download this template and make your presentation more presentable.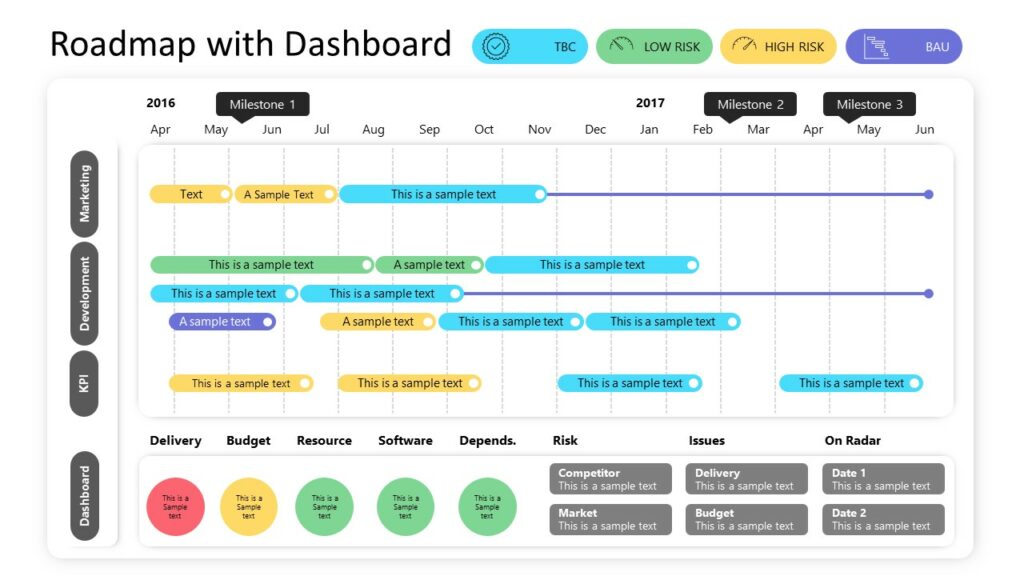 Want to stay organized with your tasks or projects? Then try out using this RAG Dashboard Roadmap Gantt Chart Template. With this RAG Gantt chart template, you can track the status of various tasks using three different colours, i.e., Red, Yellow, and Green. Red represents the tasks with immediate attention, Yellow depicts warning, and Green shows all good actions. Managers, planners and business professionals can take advantage of this RAG Gantt to keep track of the process.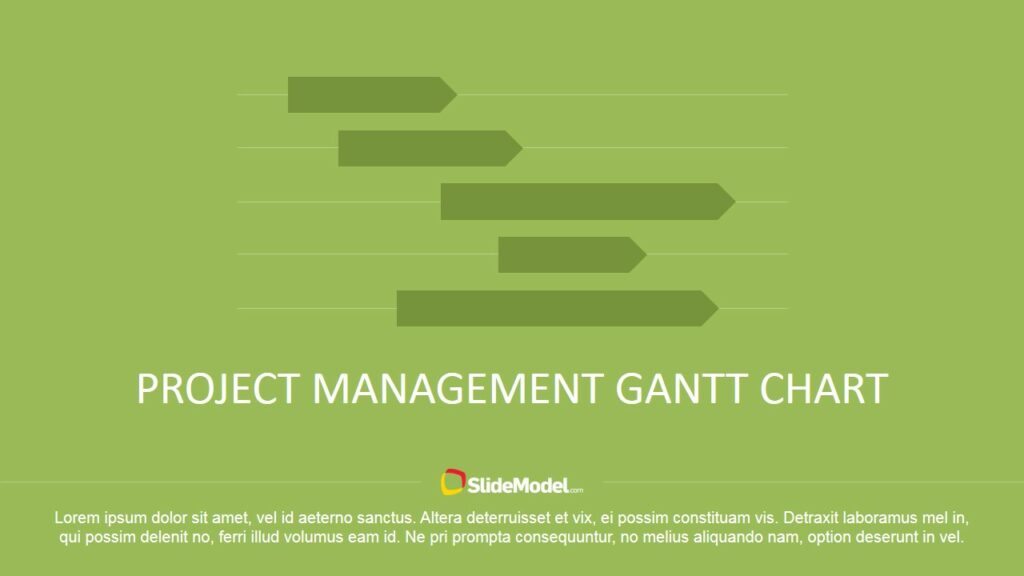 Create a detailed timeline of your project using this project management Gantt chart template. This Gantt chart deck includes eight different styles of Gantt templates which can be used to plan your projects, including information related to tasks, time and resource required, start & end date and much more.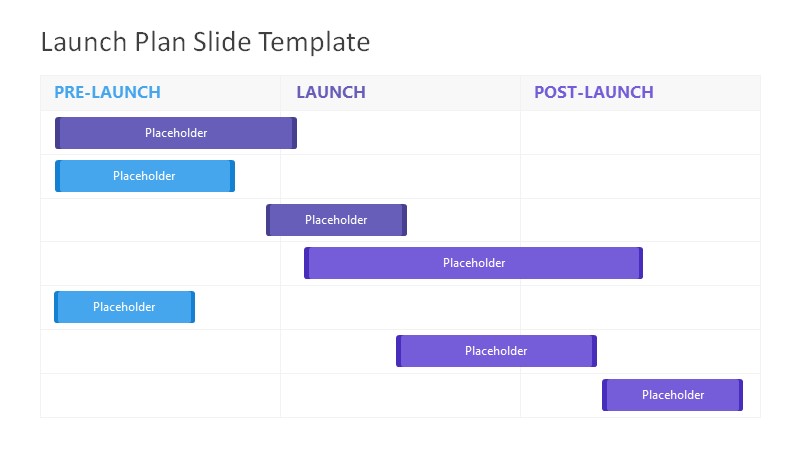 During the product launch, the Gantt chart helps keep track of all your activities. This pre-launch strategy template is a deck packed with all slides best for strategy and planning. For the successful launch of a product, the business performs an array of pre-launch activities. Pre-launch activities include product readiness, budget, marketing campaign, etc. This deck has a Gantt launch plan slide using which you can keep track of all pre, post and ongoing launch processes.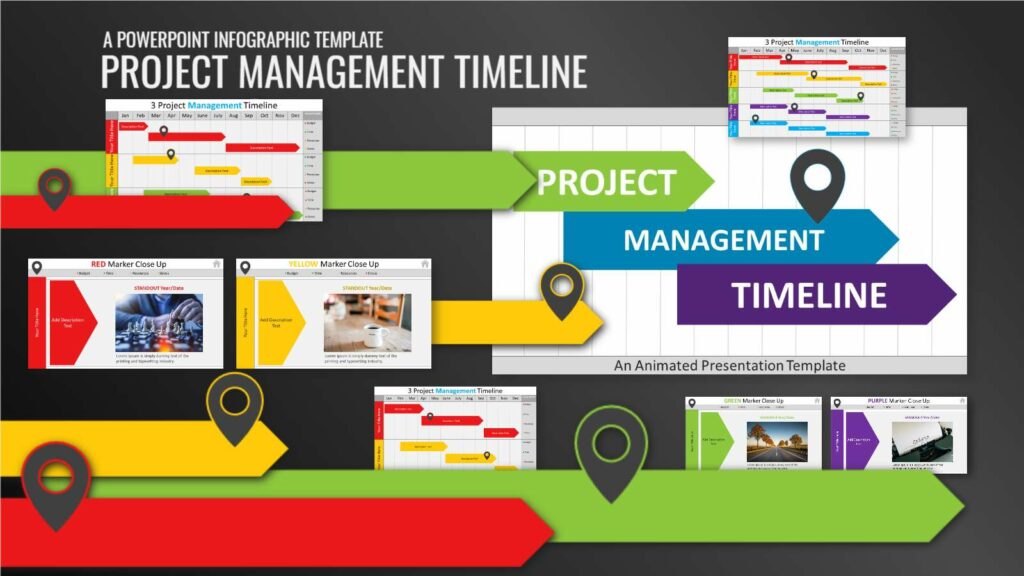 Want to enhance the appeal of your presentation? Then this animated project management timeline Gantt chart is your choice. The animated template helps you save time and engage with your audience. Incorporate this animated Gantt chart in your presentation and attractively showcase your management of project flow, project development or project hierarchy.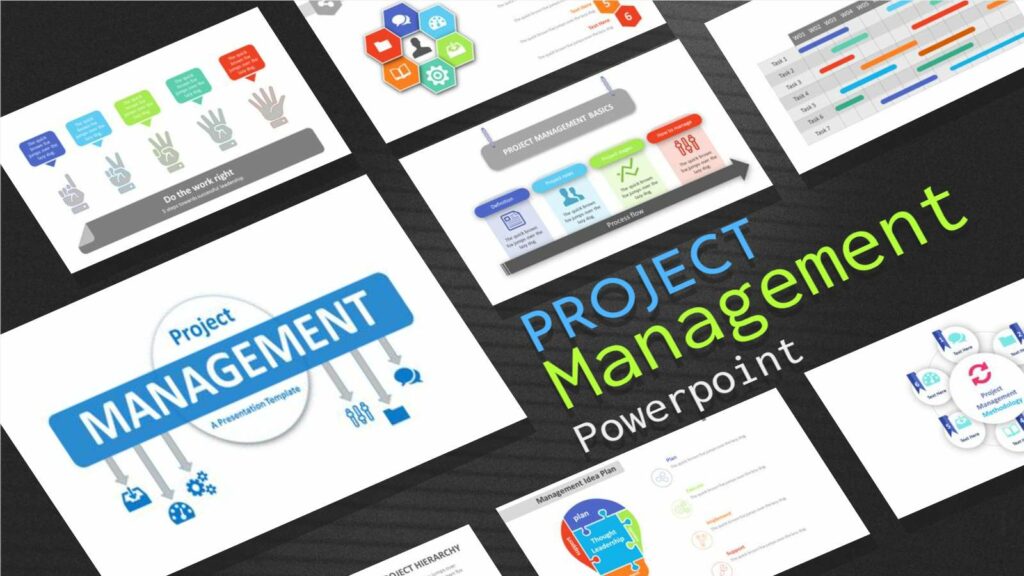 Want to exhibit your information in a visually appealing style? Then this animated Gantt chart for project management is a perfect choice. This animated Gantt chart contains 11 slides themed around project management.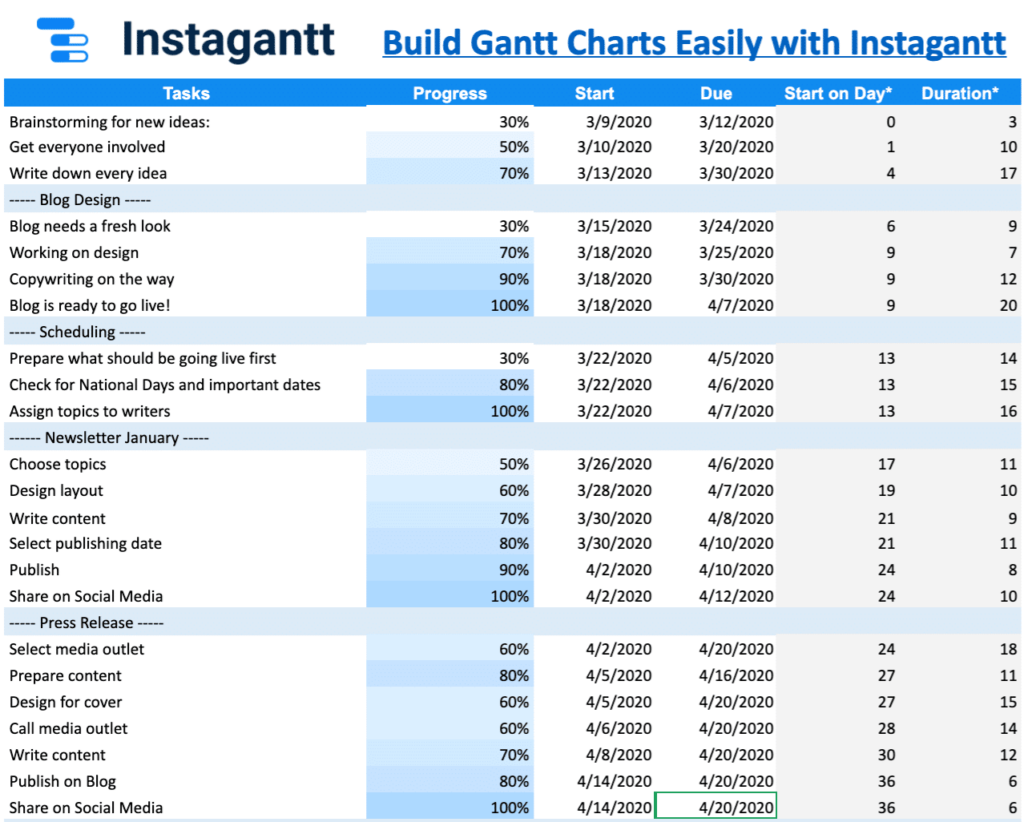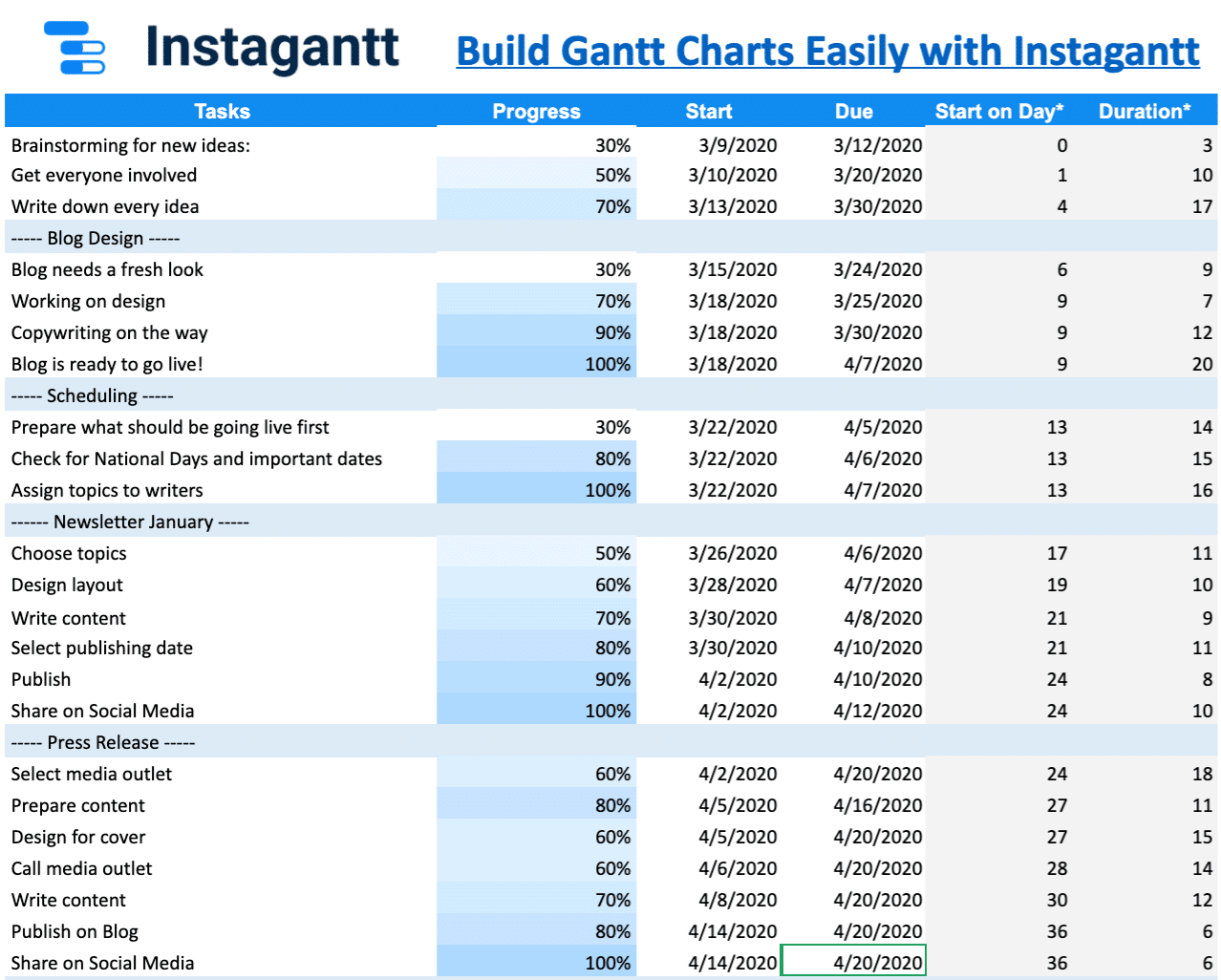 Download these free Google sheets Gantt Chart and give a clean and concise depiction of your project activities. Using these Google sheets, Gantt Chart templates, you can create highly interactive and professionals that grasp your audience's attention. This Gantt chart Google sheets includes multiple columns where you can highlight project details like tasks, progress, start data, due data, total days worked, duration, etc.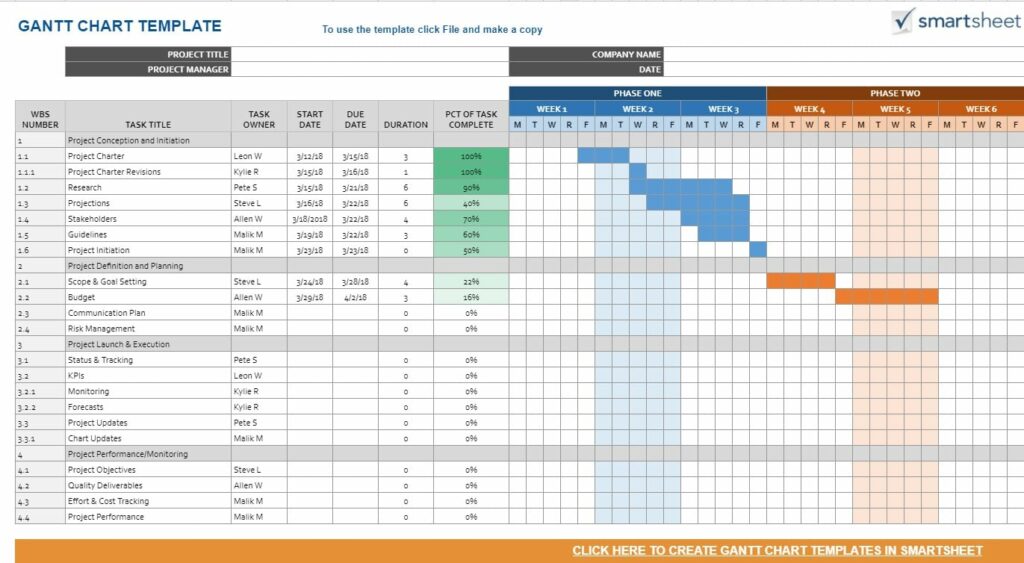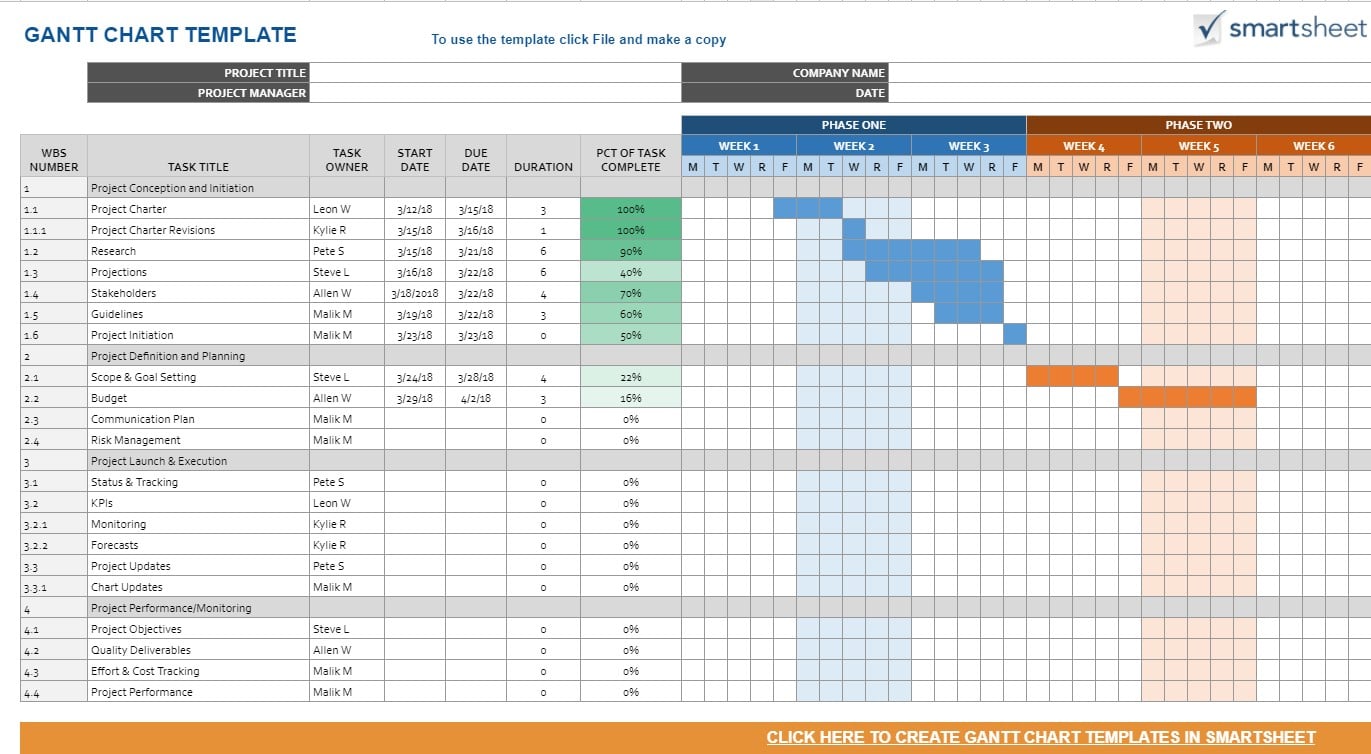 Task management can really turn daunting. Take advantage of this free project management Google spreadsheets and monitor your project without any hassle. Add these Gantt Spreadsheets and outline the number of tasks that you want to complete, you can even state the name of the task owner, start date, due date, duration, percentage of completion. Use these compelling gantt chart google sheets timeline chart templates and create a lasting impression on your spectators.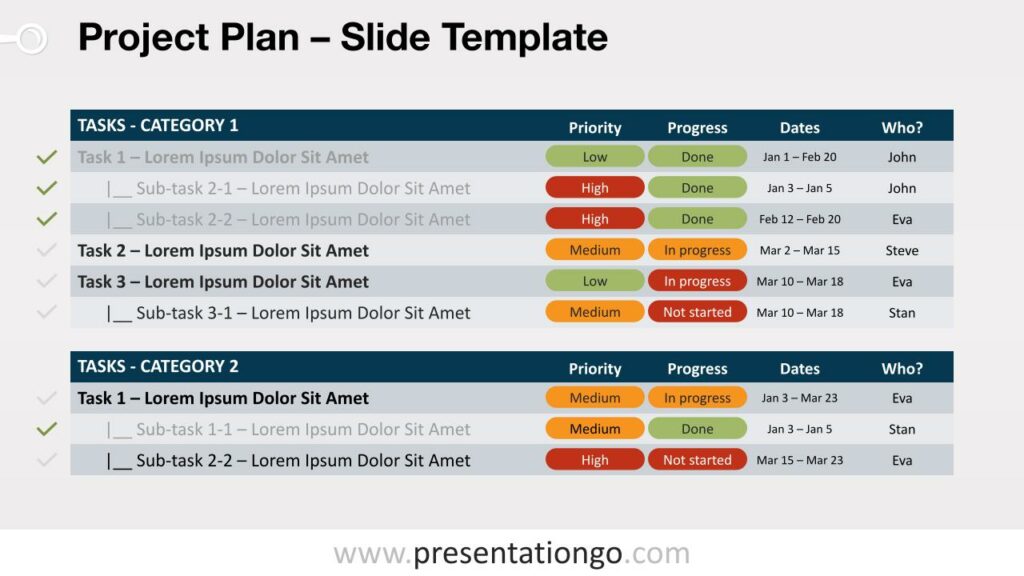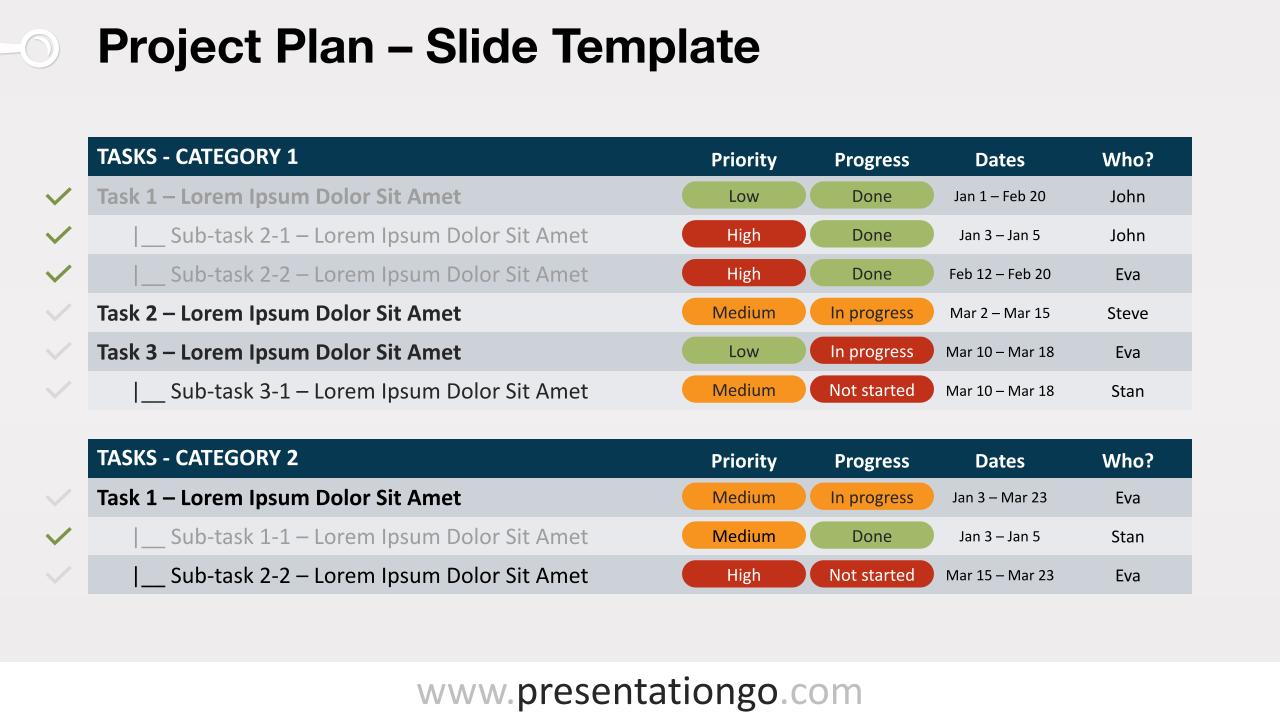 Project management can really be a nightmare. But thanks to this project plan Gantt chart template, now you can establish and keep track of each task of your business project in a simplistic way. This project plan gantt chart google sheets uses colorful code to verify tasks, priority, and progress. Give a detailed overview about tasks, set priority, progress, start, and end date, and name of the employee to which project is assigned. The chart is 100% editable and is designed with a table feature.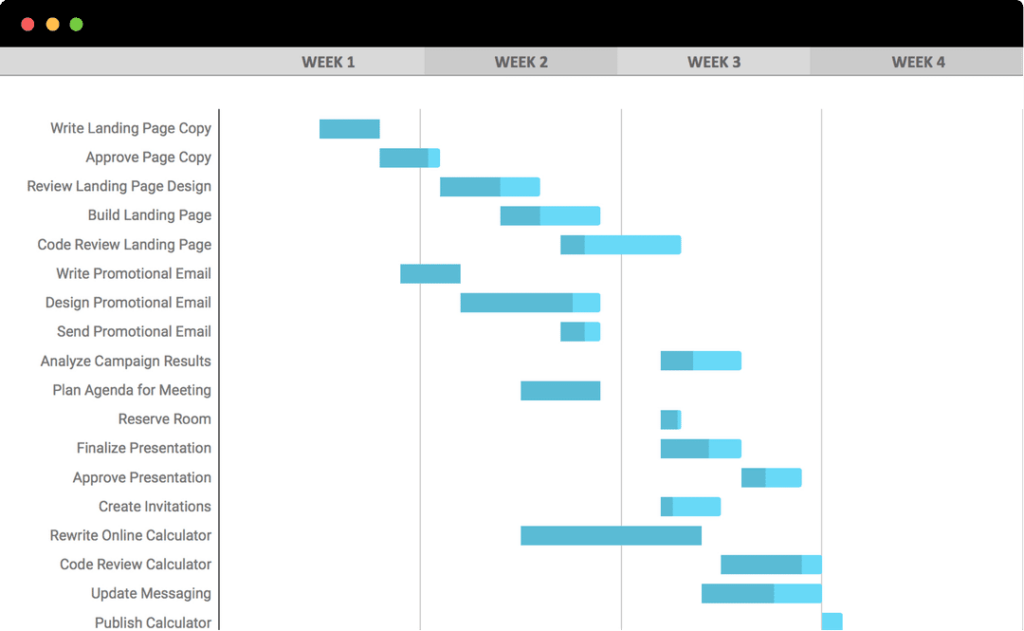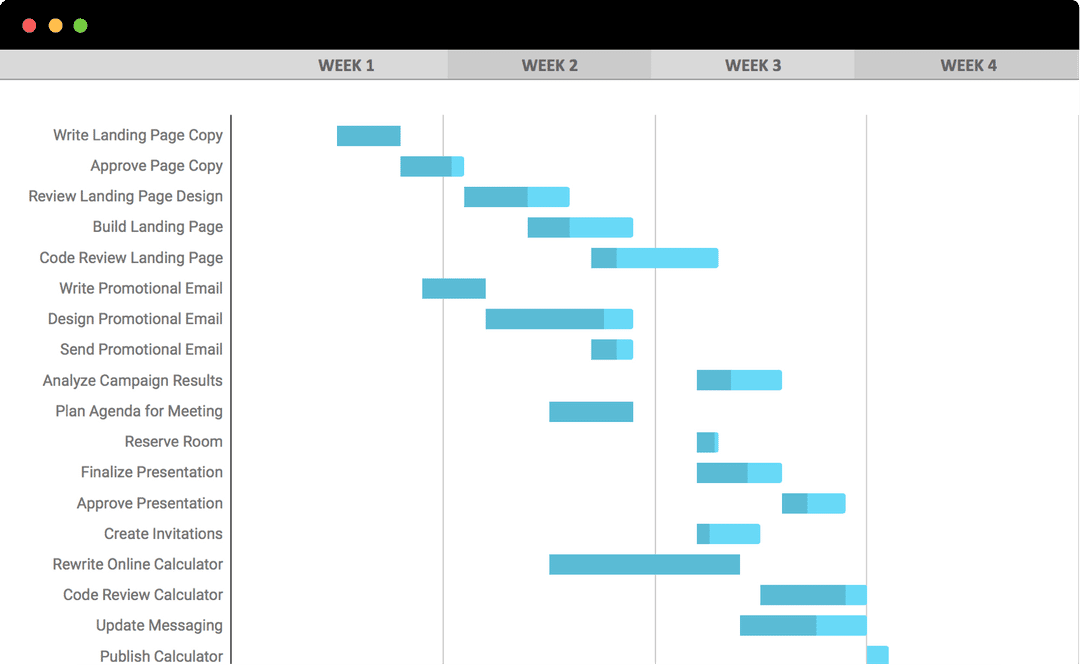 Whether big or small, every project requires teamwork and collaboration to get across the finish line faster. To help you out, here we have designed a handy tool, so you can keep track of your tasks, monitor progress, and keep your projects moving forward.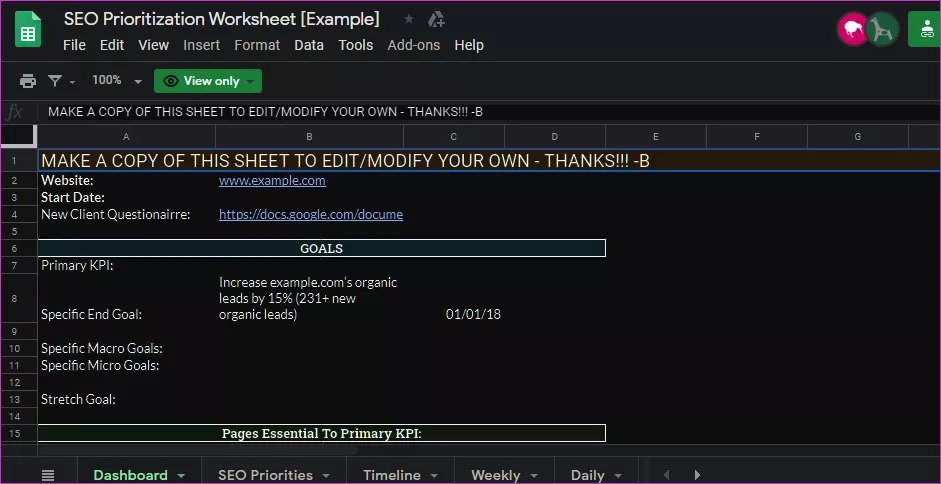 In today's digitalized world, if you don't run a website, then you are lagging behind then your competitors, and doing SEO practices boost your online presence and lets you stay ahead in the game. With these SEO prioritizations Google Worksheet Templates, you can prioritize SEO priorities and can track important SEO tasks.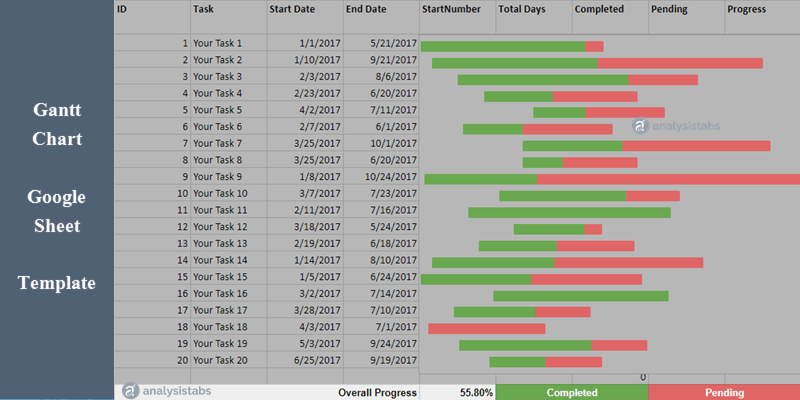 Give a brief intro covering all the crucial aspects of the project using this free sample Gantt chart Google sheets template. These Google sheets template helps you to cater to your business needs effectively.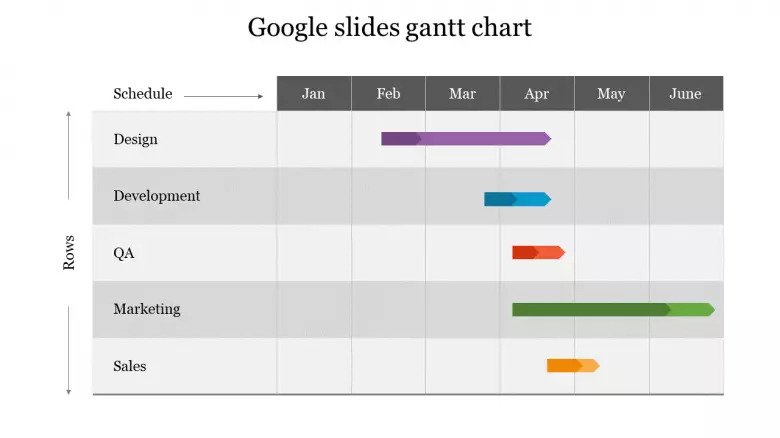 Do you have a huge project to manage, then try out these business development google sheets gantt chart, an efficacious tool that helps in planning, managing, and scheduling the projects and helps in simplifying the complex tasks for better understanding and quick processing.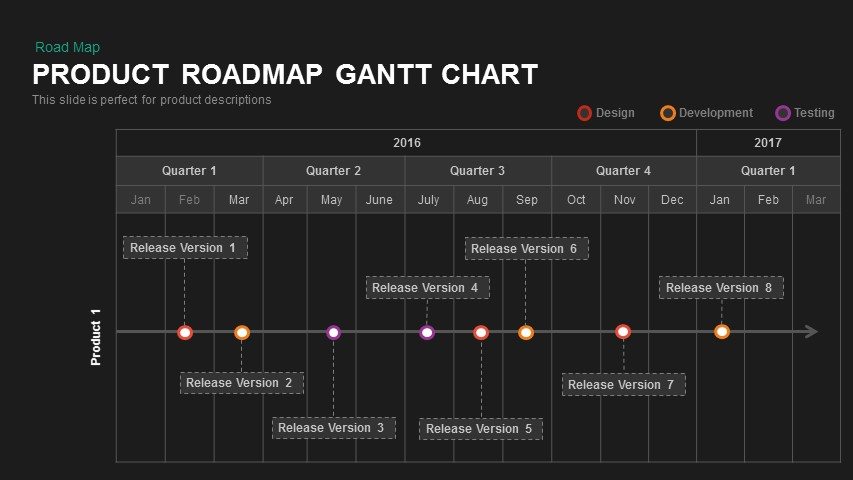 Download these product roadmap Gantt chart PowerPoint template an excellent statistical tool to represent different phases of product development. Gantt charts are a modernistic type of bar chart with parallel lines showing the project status or work completed in a certain period. This product roadmap has a complicated look but is ideal to indicate work schedule, project summary, assignment, etc. Download them and create a good impression while drafting a presentation.
What is a Gantt Chart?
Gantt chart templates Google slides are a ready-to-go tool for every business professional that helps in handling complex projects. To effectively handle any project-related activities, you need Gantt charts, using which you can outline schedule for planning, duration of easy tasks, key tasks with conditional formatting. With proper planning & time estimation, it's easy to manage numerous events. Gantt charts assist you.
How to create a Gantt chart using Google Sheets
there are multiple of tutorials out there on how to create a Gantt Chart in Google slides, which is a few steps process to make it easily accessible for you; we are adding a youtube video which will help you to understand the step-by-step process. You can watch the video here 
Conclusion
Gantt charts are a widely used and popular project management tool best for showcasing activities against time. Using these charts, you can give an overview of your project progress and a complete view of the work scope and dependencies.
Download these Gantt charts, Google slides templates and google sheets templates and conveniently manage your projects.
Now don't worry about losing projects, missing deadlines, or miscommunications.