It's the end of the year; you might have missed deadlines or crucial dates or failed to achieve your new year's resolution. We know missing important dates or targets can really be discouraging.
This year 2023, there's no way of looking back. So gear up & begin this year with high motivation with this best 2023 calendar template.
Top Free Calendar Templates to Stay Organized in 2023
Looking for unique calendar templates? Don't look further when it's about finding the best calendar template. Here we have listed the best calendar templates to help you start the year.
Project planning doesn't need to be boring. Instead, make it more engaging and entertaining with this free interactive 2023 calendar template. With this free 2023 interactive calendar, be on top of deadlines and events. Moreover, you can visualize dates and timelines at a glance.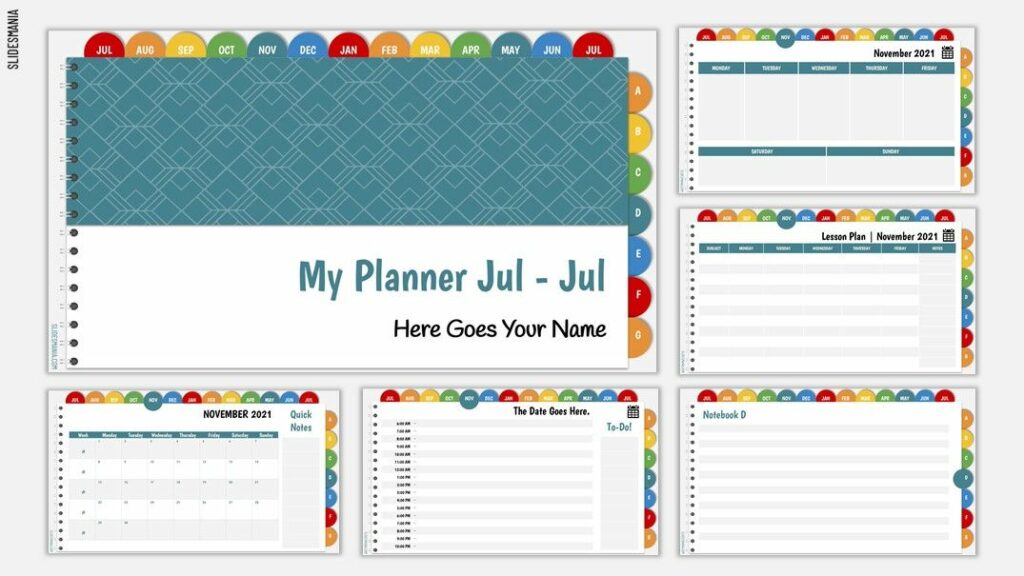 If you're a teacher who wants to organize a schedule for an upcoming academic year, this blank monthly calendar & planner template is for you. It's an interactive template with monthly from July-July & eight notebooks for every month; use it to add notes, details, etc.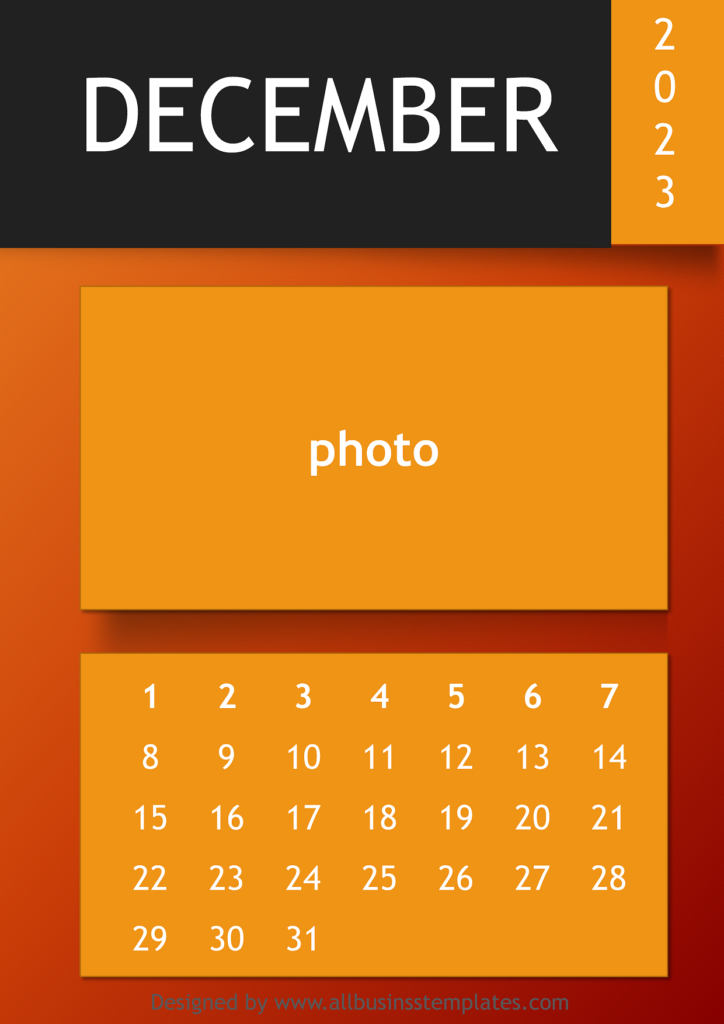 Designing a calendar can be tricky, but ensuring that all your employees are abreast of key dates can be more challenging. But there isn't anything to worry about; with this simple calendar template,, you can easily share meeting dates, holidays, and other important occasions with employees. It's a printable calendar template which means you can use it as printed handouts which will be great for meetings and planning sessions.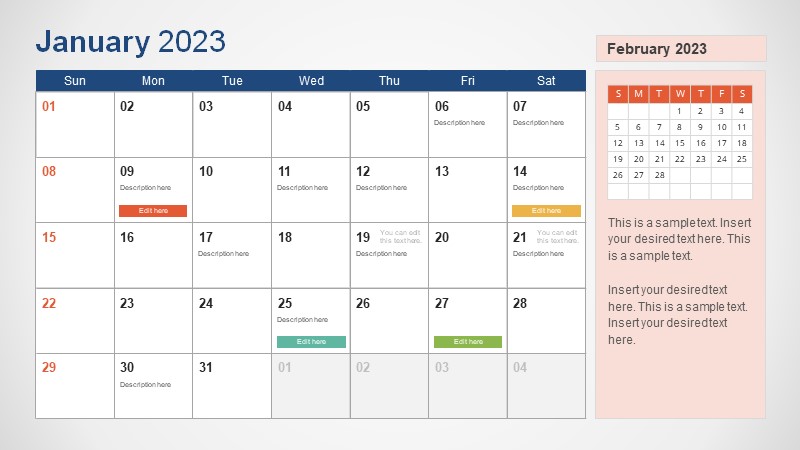 Plan ahead and stay on top with this blank monthly calendar template. This calendar is perfect for planning as it comprises a monthly calendar with labels and description text areas, making it look more informative.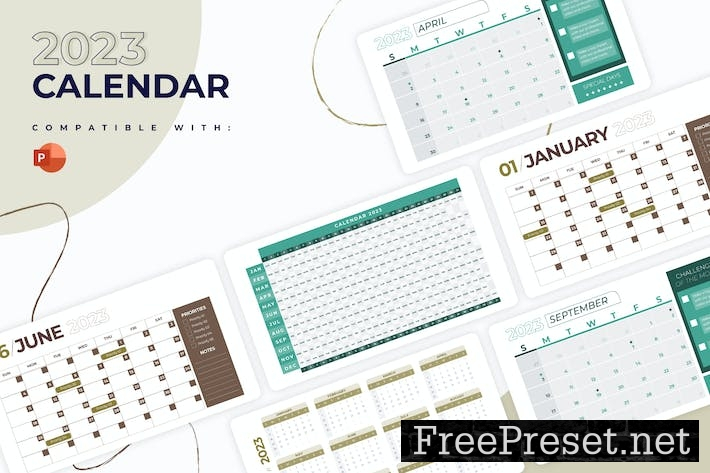 Present your plans with style & confidence with these free 2023 calendar slides PowerPoint infographics. Here you will get two different style calendars, one yearly calendar and the second monthly calendar, with a text area on the side where you can add challenges, tasks, or programs for the month. This 2023 calendar infographic can be a great addition to your business presentation.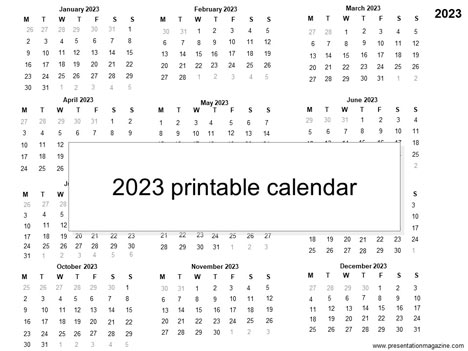 If you have an upcoming corporate meeting, try using this free 2023 printable calendar template. It's a yearly calendar which means you can print it out onto a single page to use as a calendar.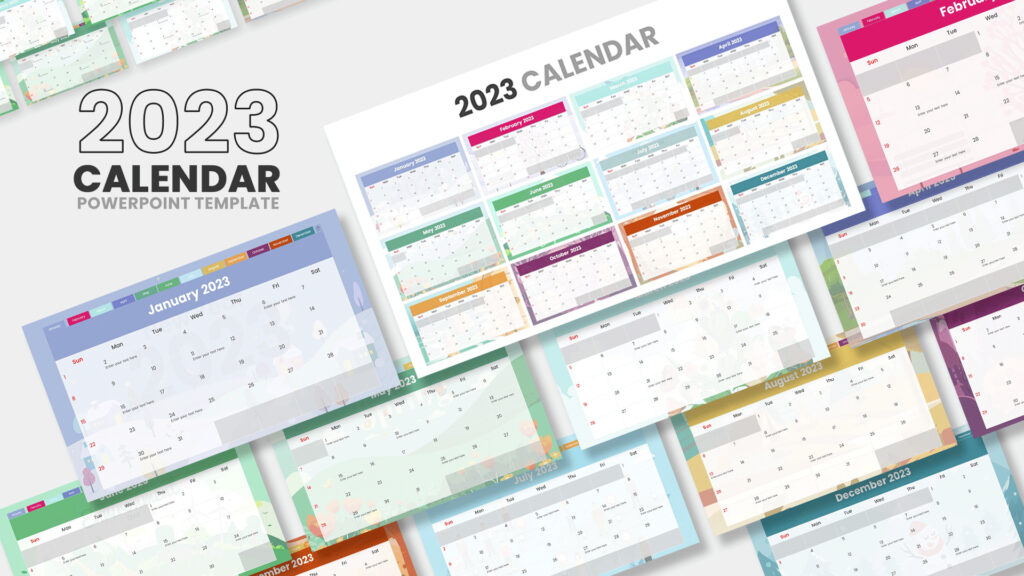 Looking for colorful calendars to make your presentation appealing? Then get this interactive calendar 2023 template, created using a standard color mix and checklist design. Each month is designed in a different color scheme, making the template look eye-catching.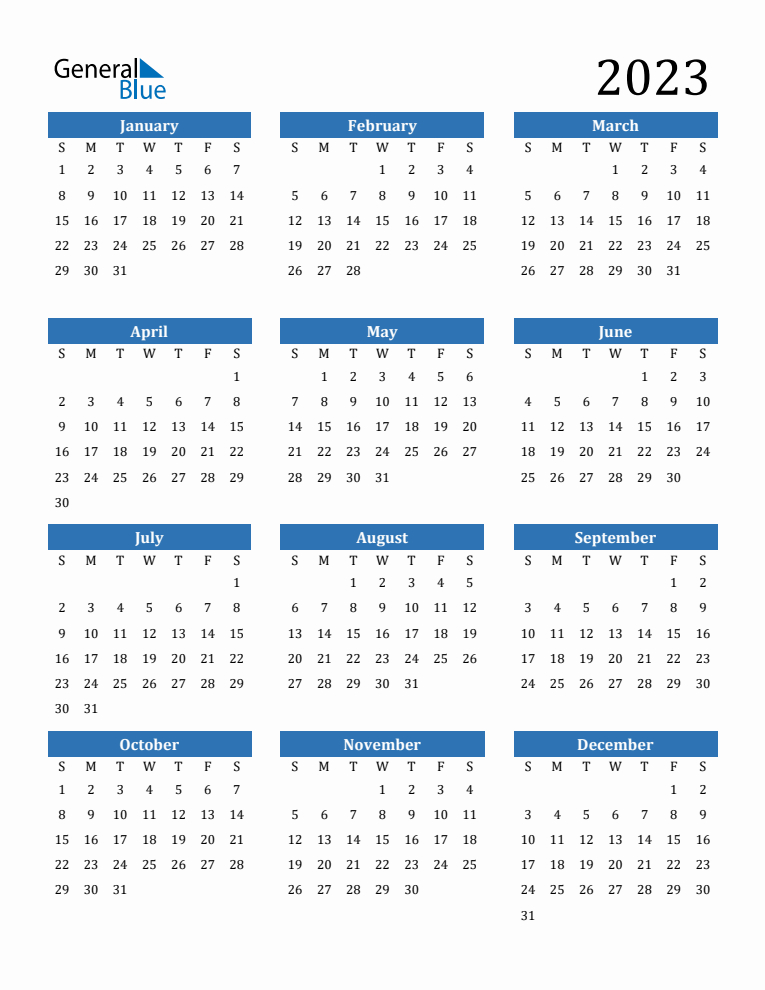 Stay organized, and execute strategies on time with this free 2023 calendar template word. It's a one-page 12-month Gregorian-based calendar. This 2023 calendar is available in 3 different formats: Microsoft Word, PDF, and Excel.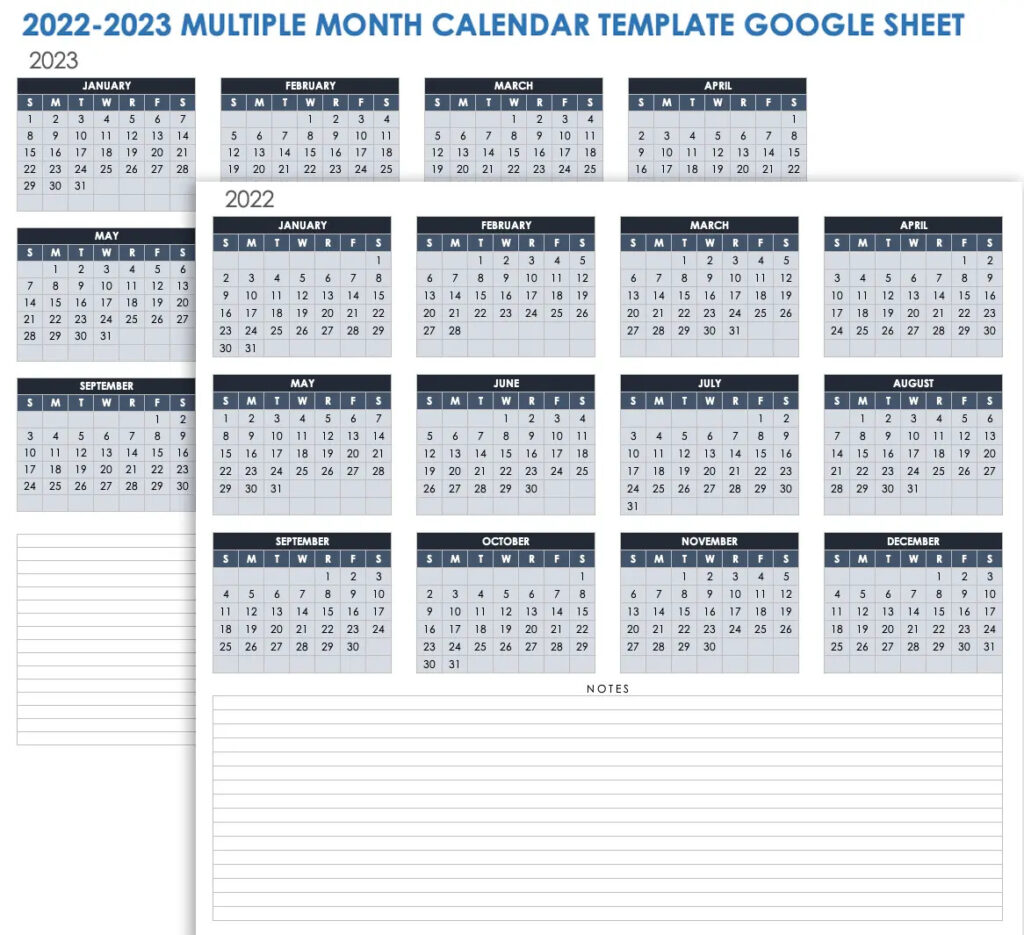 Plan and visualize the 2023 schedule with this free month calendar template Google sheets 2023. The template includes a yearly calendar within a single, uniform page so you can easily schedule plans and prioritize events entirely in one go.
Why do we need a Calendar?
Calendars are the most prominent tool useful in day-to-day work;  one can stay organized and productive using calendars. You can use it to keep track of daily activities, deadlines, and milestones. For example, in business meetings, managers can use a calendar ppt template to highlight schedules and deadlines and remind you of important events such as holidays & vacations.
Final Words
Calendars are great reminders. You won't miss any important dates or deadlines if you utilize the calendar well. The list of free 2023 calendar templates we shared here is less, as few calendar templates are available online. But it's the best 2023 calendar available. So download your favorite one today.