Crazy how far technology has come; a digital menu board is a latest and greatest way to show your customers what's cooking!
If you're like most restaurateurs, you know that a great menu can make or break your business. Not only do you need to select the items on your menu carefully, but you also need to present them in a way that's appealing to customers. One way to enhance your menu is by using a digital menu board.
According to a survey, 29.5% of restaurant customers says digital menu boards are likely to influence their purchasing power.
8 out of 10 viewers made an unplanned purchase of something when promoted through a digital menu board in a restaurant setting.
Digital menus are increasingly becoming popular among restaurants these days. It's an excellent marketing tool; moreover, it provides valuable information to your customers.
Trending Digital Menu Board Templates You Can Find Online 
A study suggests that 60% of customers make purchasing decisions at the point of the sale, and digital signage technologies have widely influenced their decisions & implementing digital signage technology can increase the footfall by up to 24% in retail stores. We have shortlisted the industries' best Menu Board Designs to boost your sales.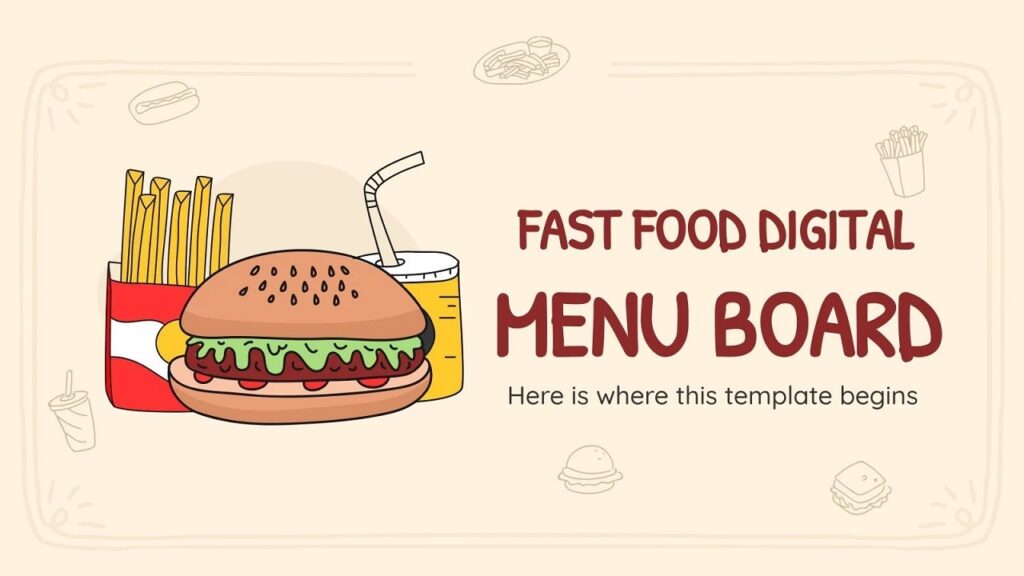 Who doesn't love fast food? In fact, everyone loves eating junk food. If you are in a newer place, don't know where to eat, just try a fast-food outlet. If you are active in social media and want to showcase what menus are available to your audience, use this fast-food digital menu board to feature a variety of menus, products, and offers.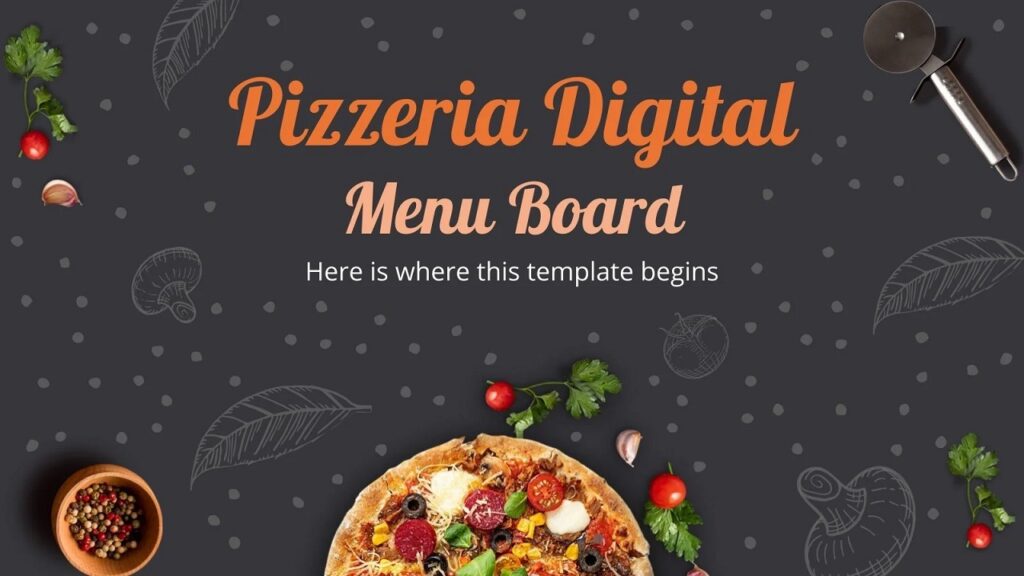 If your speciality is Italian dishes? Are you a real master at making pizzas? Then this Buku menu board template is for you. Get this menu board template and list all your menus in place, and background images and icons will do the rest of the magic. It isn't just a menu board; it's a recipe for success.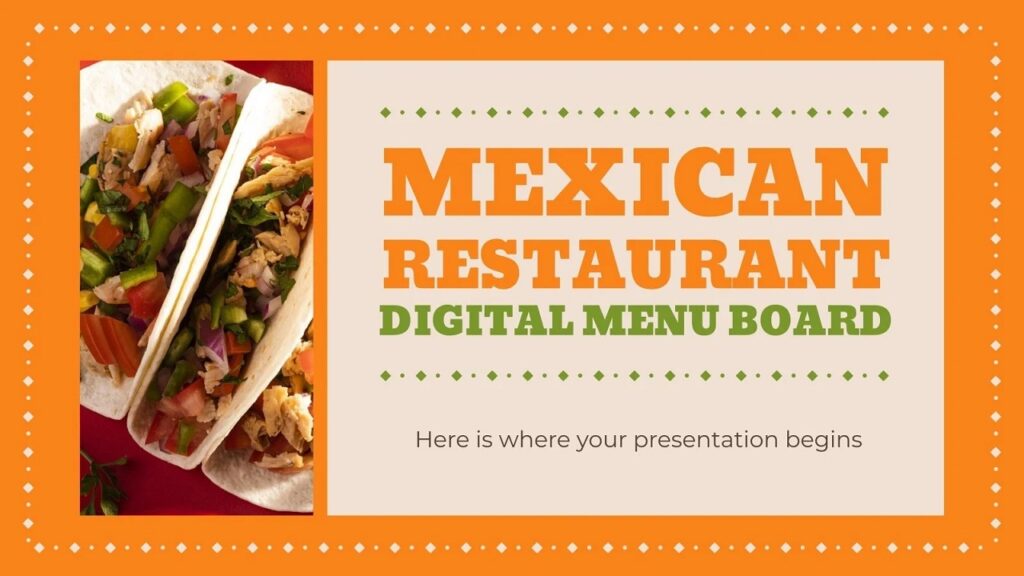 Do you own a Filipino restaurant? Are you a real master at making at tapsilog, beef tapa? Then this template is for you. With the combination of an orange and green background and ample image and text areas, you can customize the templates as per likings. Moreover, with these menu tarpaulin tapsilog menu layout can be used to create your restaurant's online marketing campaign in a professional style.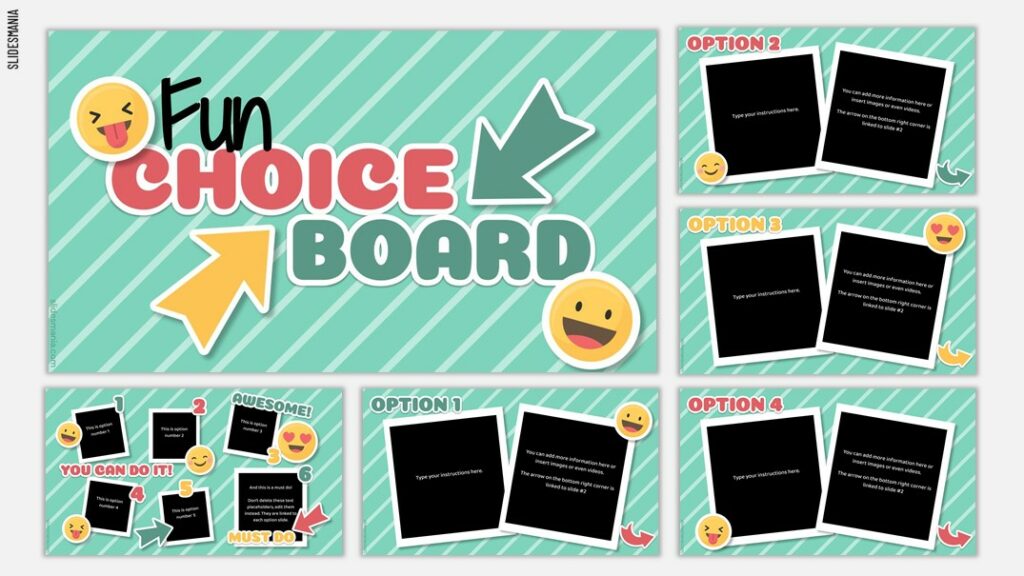 Why not try out tablet-style menus instead of traditional paper menus. If you want to try something creative at your restaurant, download this digital food choice board template. With these interactive digital menus choosing what to eat will be fun.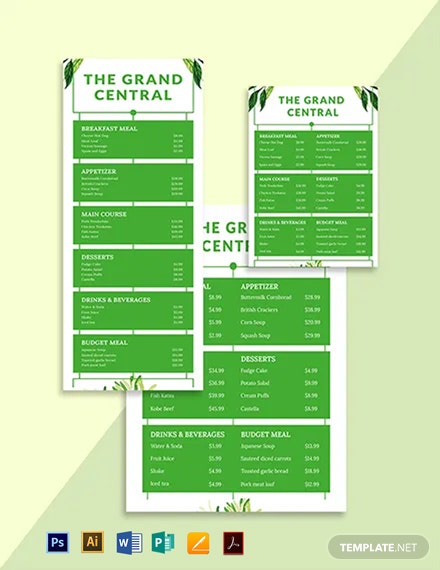 "Health is wealth", & good health is a reflection of what you eat. If you own a restaurant that cooks a healthy diet & if you are looking for a spectacular menu that showcases meals and delicacies made from ingredients that are grown without the utilization of pesticides. Adding this free organic food menu board template will be a smart move. The template has a light green and white colour scheme with leaves on the top, making it perfect for displaying any organic food menus. So, get this organic food menu board design & reap its wonderful benefits.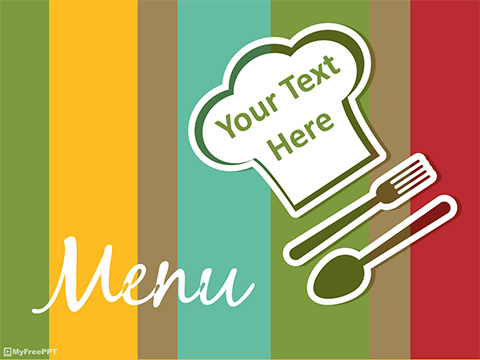 Setting up a restaurant business is a daunting task, but setting up the menu is the real hustle. If you are looking for a simple yet elegant menu for your restaurant, just go for this blank menu board PowerPoint template.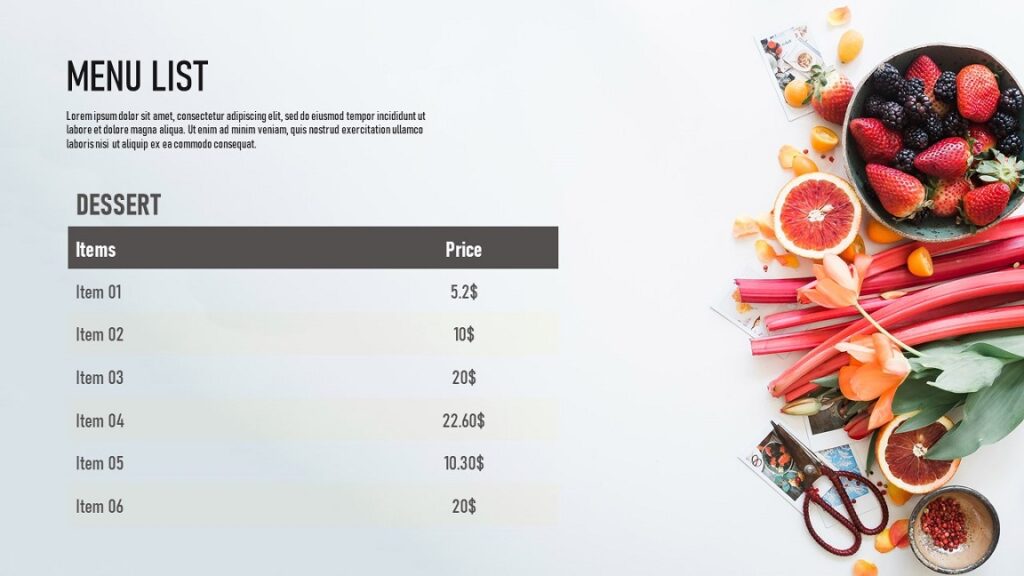 Food without good representation isn't delicious. That's why having a perfect menu that makes your dishes looks yummy is a must. It has a light colour scheme which gives the template a pleasing effect.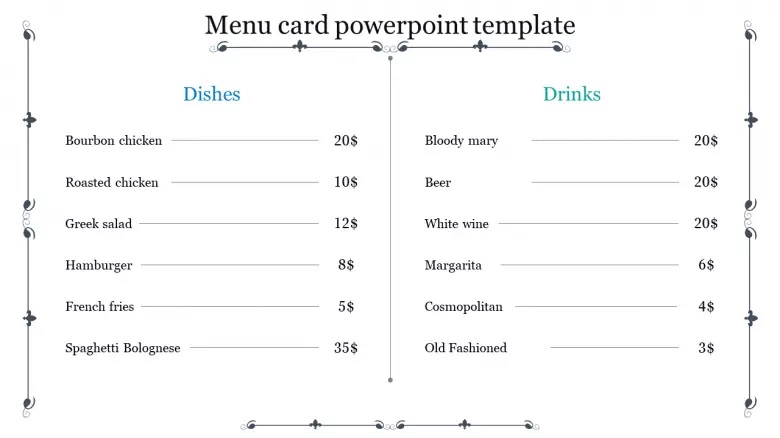 Are you looking for new and creative menu templates? If so, then you in the right place. This editable menu card template is the best and most innovative menu template for you. Get this menu card and use it to design menus for your restaurant or café. Enjoy!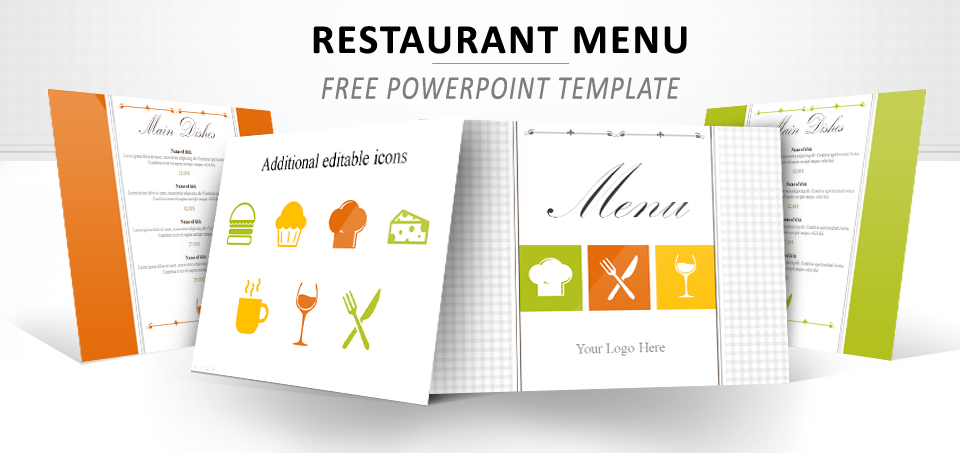 Looking for a fresh and new way to present your restaurant menu? Instead of using a paper menu, try using this buku menu free PowerPoint template! A restaurant menu board template is easy to create a professional-looking menu display. Plus, it's easy to update and change as your menu changes.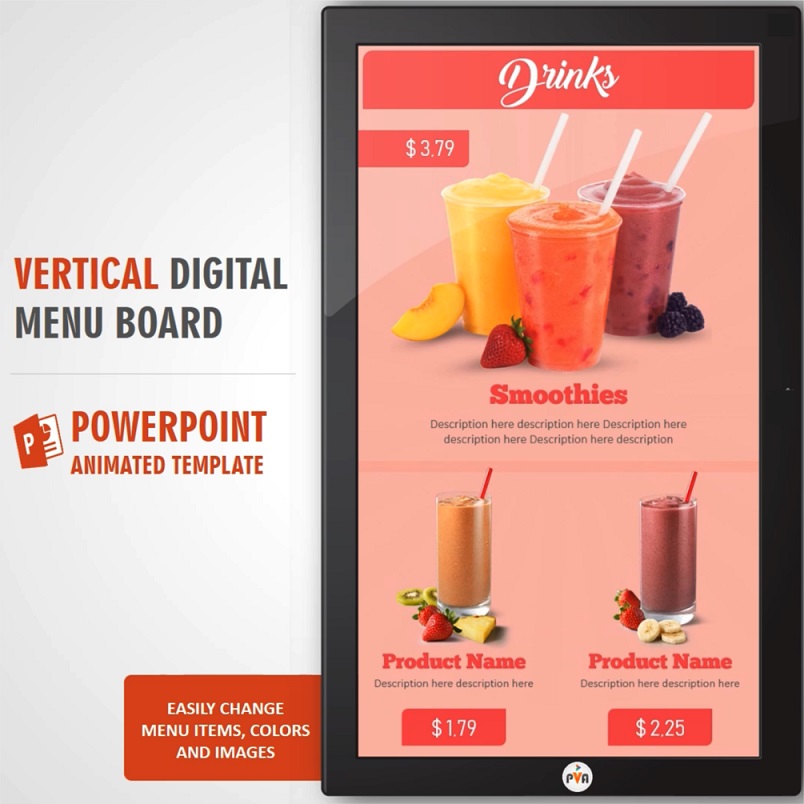 Want some premium quality menu board for you? Then try out using this animated menu board available for just $9.99. Available in 1920*1080 resolution with smooth animations and a professional look.
Conclusion
A restaurant's menu card is the most crucial internal advertising tool. It's what holds the attention of your audience. A great menu design is what communicates about the restaurants and drives profit.
If you're looking for an easy way to create a beautiful and professional food menu, look no further than our amazing food menu templates. The food menu poster template is a great way to show off your restaurant's delicious dishes.
The design is fresh, modern, and perfect to attract the guests' attention. This template will help you create an effective and attractive food menu for your restaurant. So what are you waiting for? Start creating exquisite menus that will make your guests hungry for more!