List of Best Alternatives for Slidesgo to Checkout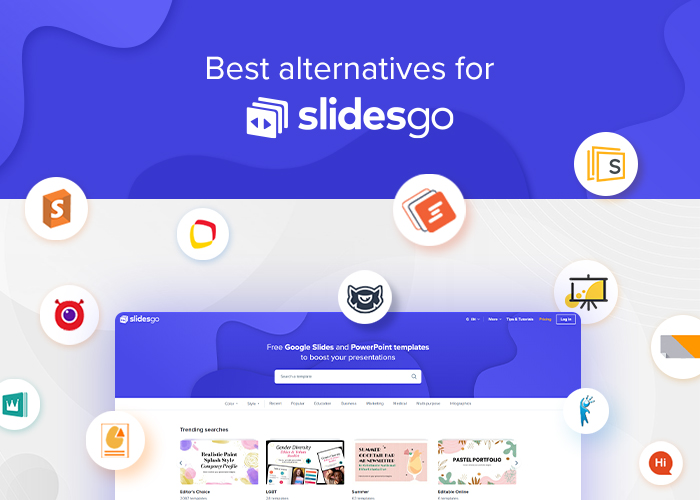 Do you create presentations too often? Yet you might have heard about Slidesgo at least once in your life or just seen it in the Google search results while googling for best templates. Slides go is a platform for the best and most extensive collection of PowerPoint templates and Google slides for people who don't know what Slide go is. Moreover, it offers an extensive library and templates, including marketing, advertisement, education, Business, medical, etc. In addition, Slides go offers multiple tutorials related to PowerPoint and Google slides, following which you can have to learn how to creatively present your ideas.
Slidesgo resources make the presentation more interesting and easier to understand. However, it isn't the only site out there that offers high-quality vectors, icons, infographics, and other resources. Find Out a few of the best Slides Go alternatives where you can find top-notch designs.
Best Slidesgo Alternative
Want to add value to your presentations or want to make them more attractive and creative. Then you are in the right place. This blog will showcase the best alternatives for slidesgo that offer a wide range of resources. So, let's get started.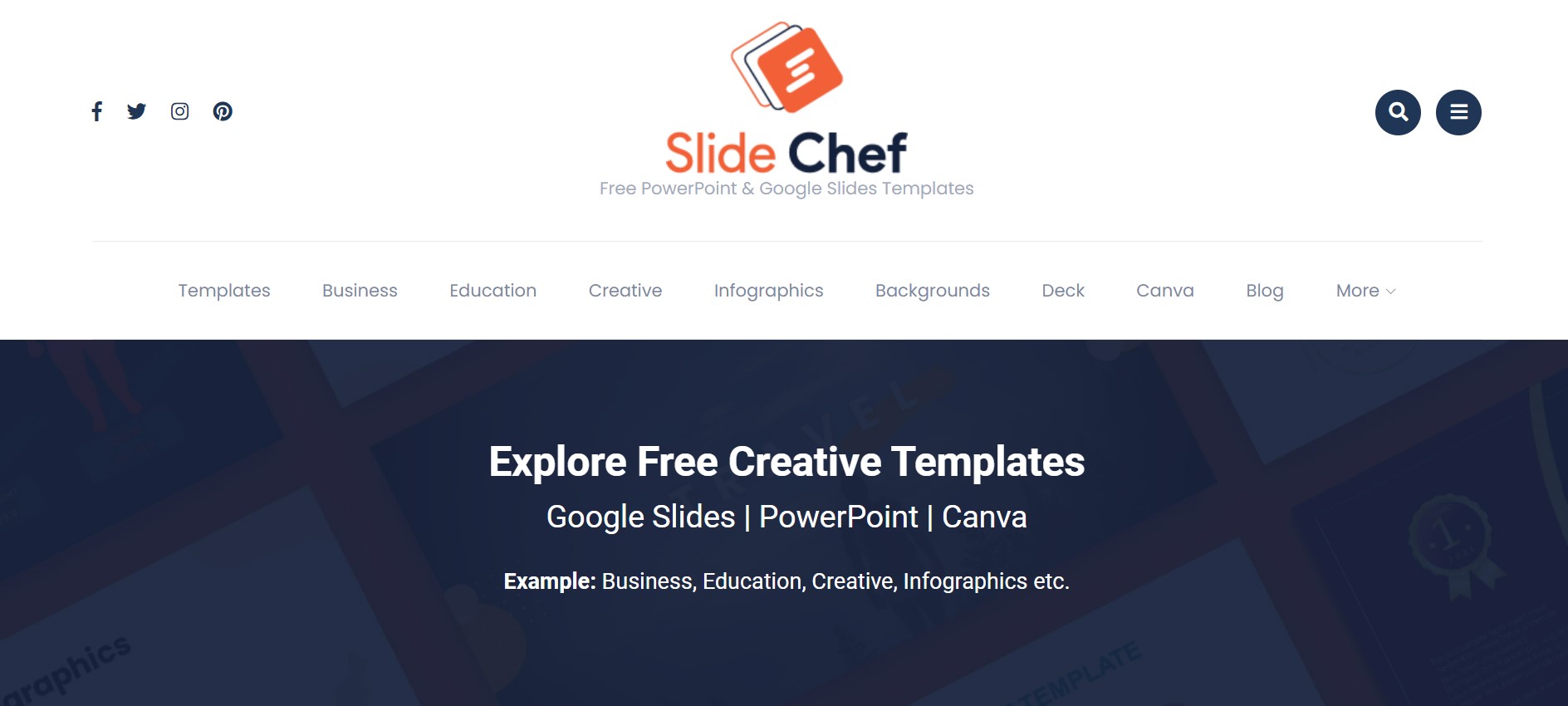 Yeah, it's our website. It's not a promotion. I guarantee it's the best alternative for Slidesgo templates you will find over the internet today, as it's totally available for free. It offers a diverse selection of Free Google slides and PowerPoint templates related to education, movies, web series, and entertainment. You can download Slides chef templates in a few simple steps without registering your mail-id. We also have a Slides Go category best suited for professionals who want to design presentations instantly.

If you're a business professional, then Slidebazaar is your ultimate destination for the best professionally designed PowerPoint templates, Keynote and Google Slides. Slidebazaar is loaded with powerful and innovative designs that will easily grasp your corporate audience's attention. Its library is continuously updated, so the user gets the best template for a wide variety of options.
Designhill

Are you looking for an engaging and powerful PowerPoint presentation for your business that locks the deal? Look no further! Explore Designhill PowerPoint Design Website to craft your ideas into an awe-inspiring visual and leave a lasting impression. Designhill is the world's leading graphic design platform, offering a wide range of services at competitive prices.
The platform boasts over seven million independent designers from around the world. You can either hire a designer to work on your PowerPoint project on a one-to-one basis or launch a design contest on this creative marketplace— the choice is all yours.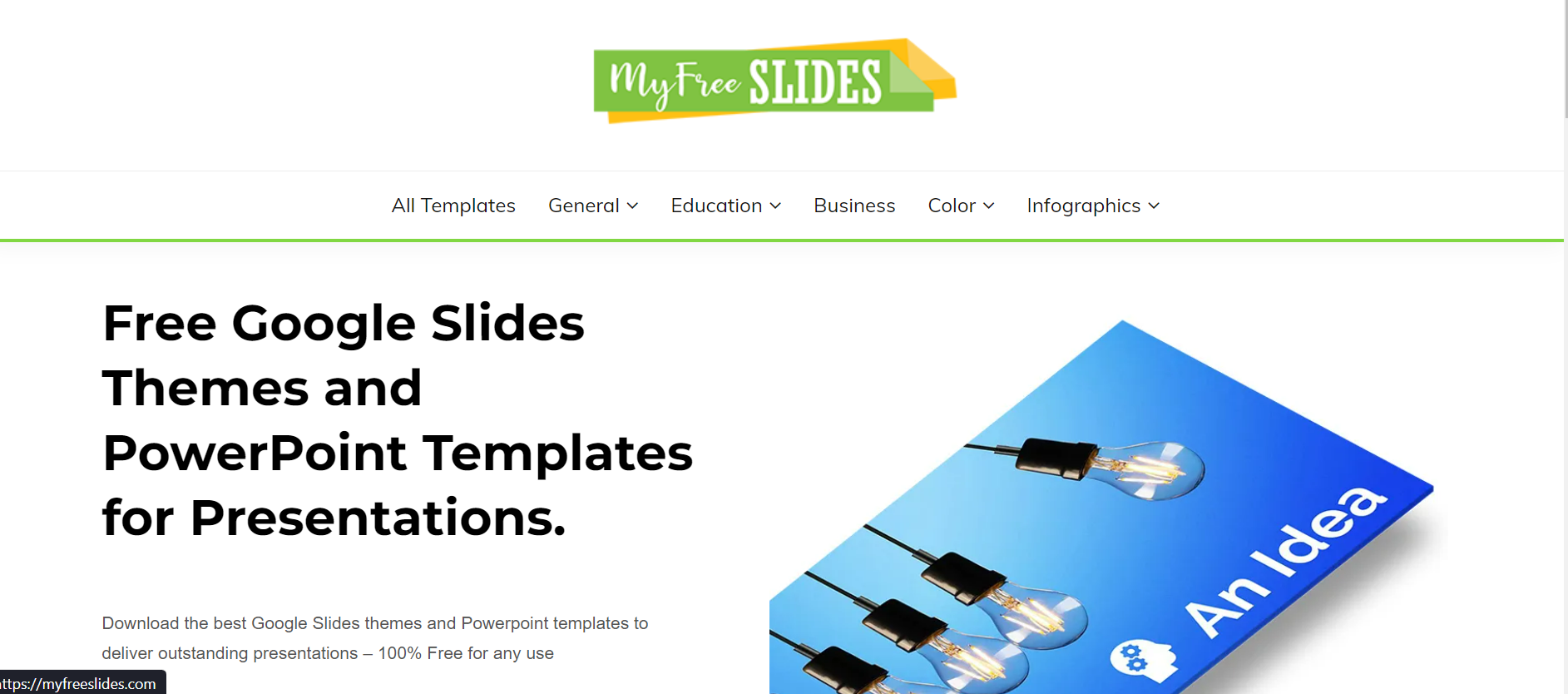 MyFreeSlides.com is ultimate destination for free presentation templates! MyFreeSlides offers wide range of professionally designed templates to elevate your presentations and make them shine. Whether you're a student, professional, or simply someone looking to enhance their visual storytelling, we have the perfect template for you.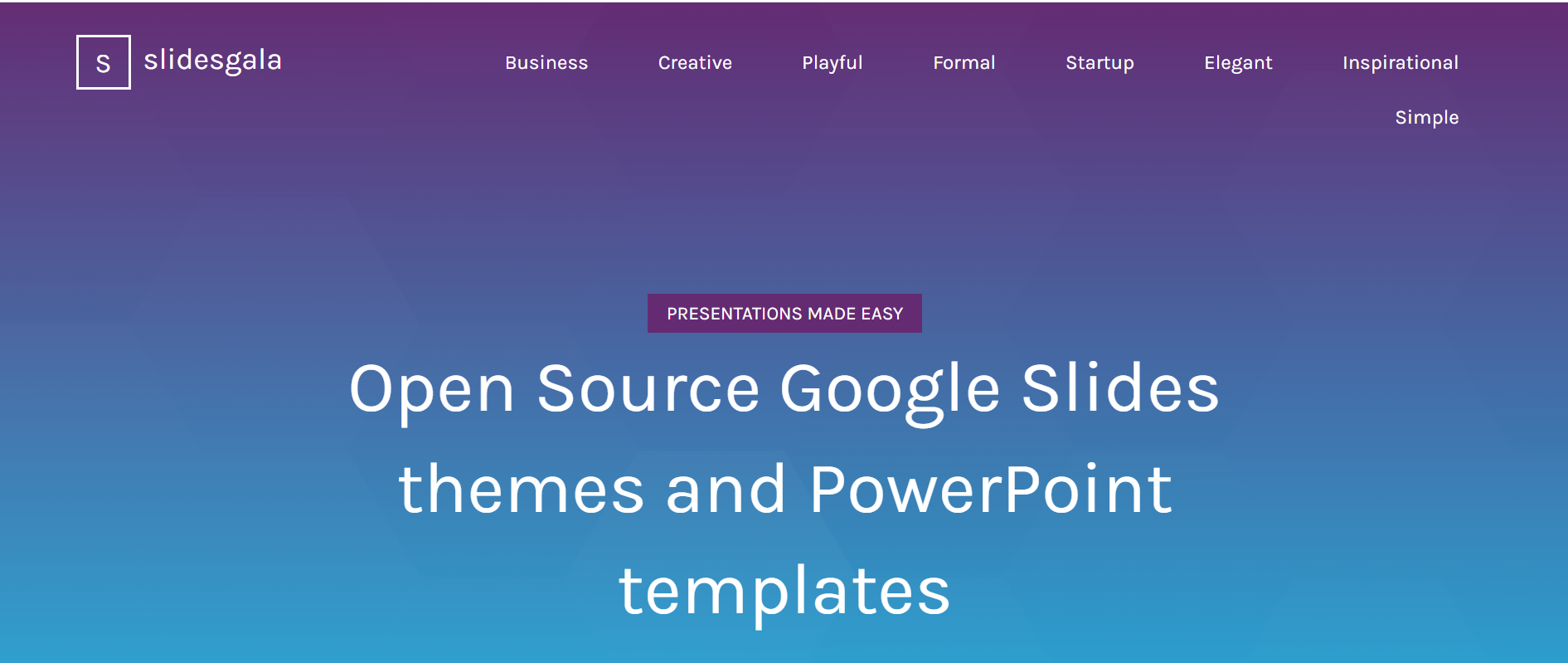 Discover a world of creativity at SlideGala! Its one-stop destination for a vast collection of Open Source Google Slides themes and PowerPoint templates.
Slidegala offers a diverse range of professionally designed templates that are completely open source. Our templates are meticulously crafted to deliver visually striking and impactful designs. From sleek and modern aesthetics to playful and vibrant styles, there's something for every occasion and purpose. Stand out from the crowd with professionally designed slides that effortlessly convey your message.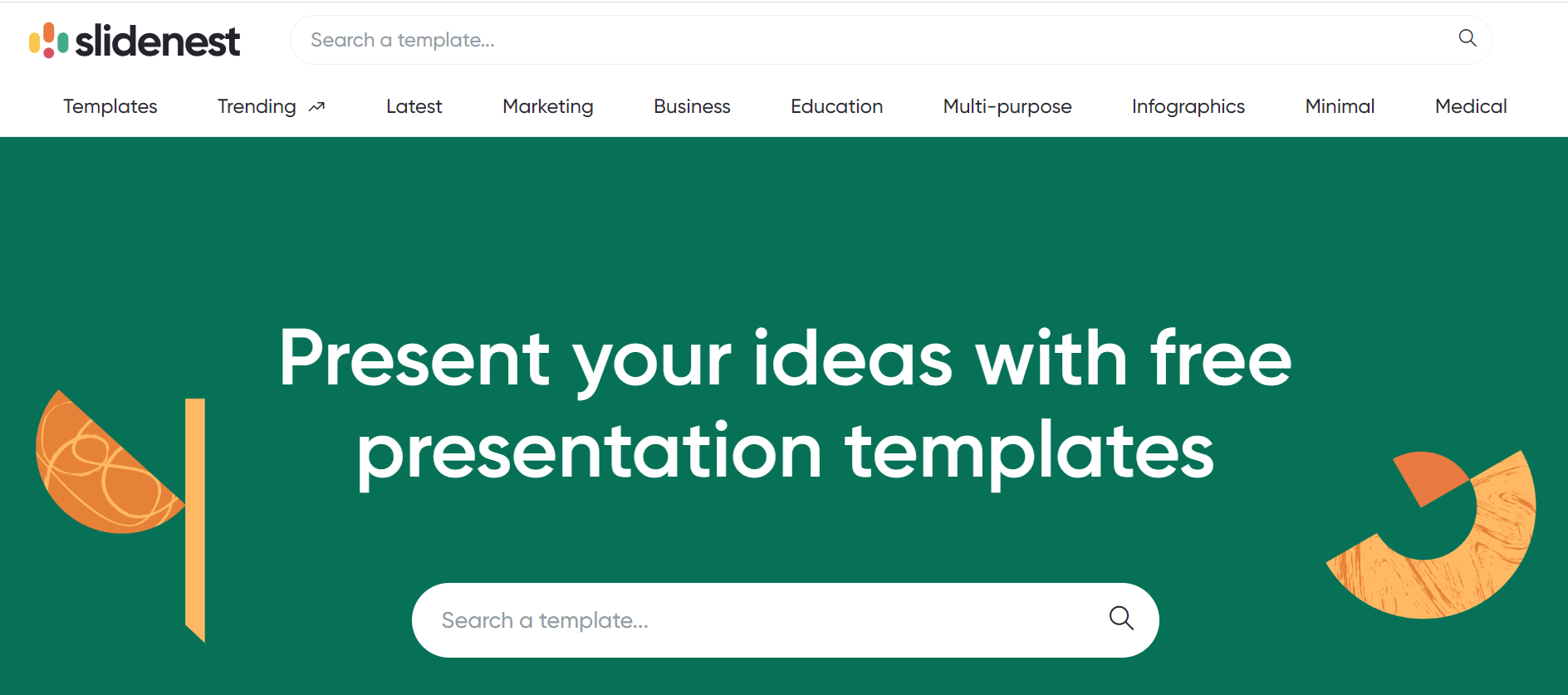 Slidenest, your one-stop destination for free presentation templates that will breathe new life into your slides! Slidenest designers understands the importance of captivating visuals and engaging content when it comes to delivering impactful presentations. That's why they have curated a diverse collection of high-quality templates to suit every occasion and style.

SlideSalad, your ultimate resource for professional and free downloadable PowerPoint templates, Google Slides themes, and Free Keynote Templates. Slidesalad mission is to empower you to effectively communicate your ideas and captivate your audience with visually stunning presentations.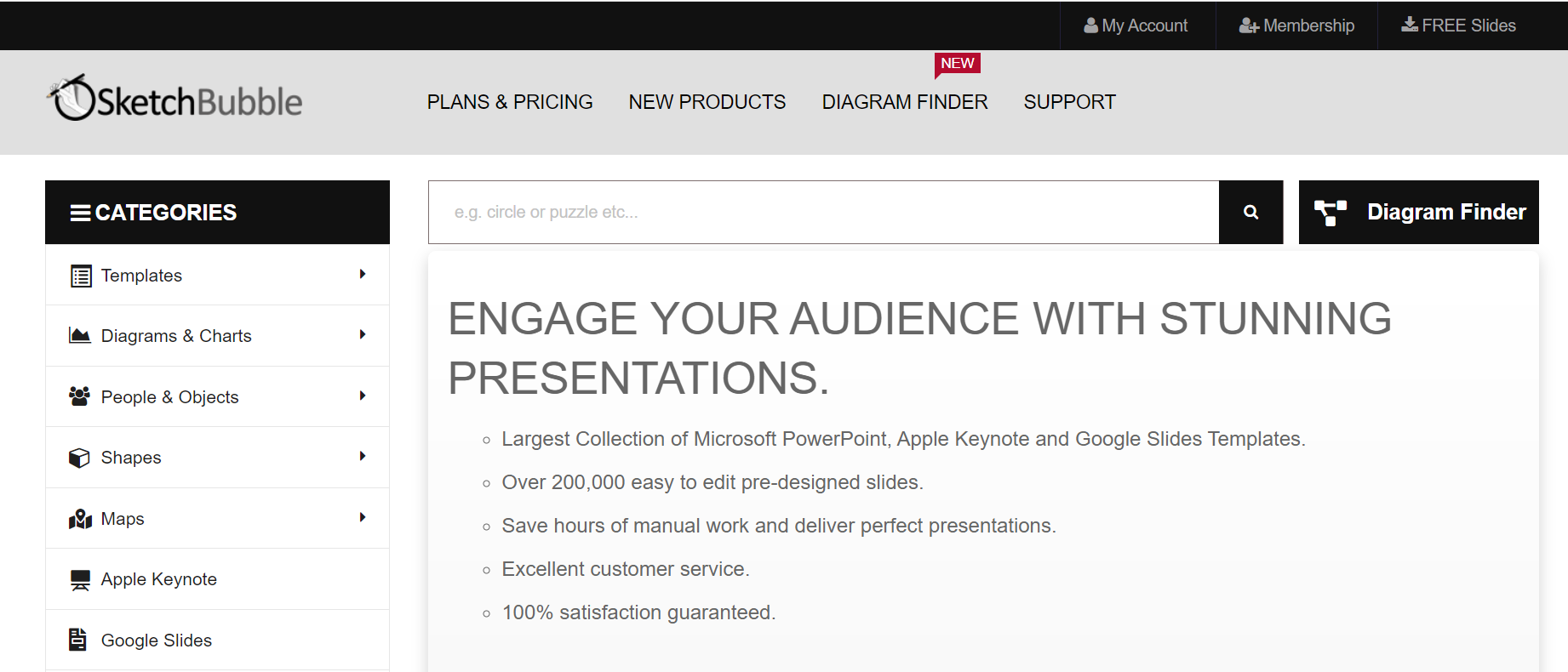 Whether your job is to consistently close more, lead your team to new heights, train your staff, or simply to communicate more effectively in or outside your organization, Sketchbubble's fully customizable Powerpoint templates will give you the unshakeable confidence and readiness you need to deliver winning presentations at the snap of a finger.
What's more, SketchBubble is used by industry leaders from around the world and widely hailed as the quickest, easiest, most powerful way to captivate your audience from start to finish.

If you are Google slides user, then Slidekit is for you. Slidekit is an exclusive template add-on application on Google slides. Slidekit aims to host the world's largest collection of premium and free templates by expanding its database with infinite niches of topics. Slidekit has a team of business experts, statisticians, data analysts, and designers who continuously contributes unique professional presentation templates that can quickly be downloaded from the Google workspace marketplace to create custom business stories. Each Slidekit template is made according to the user's perspective and current market trends.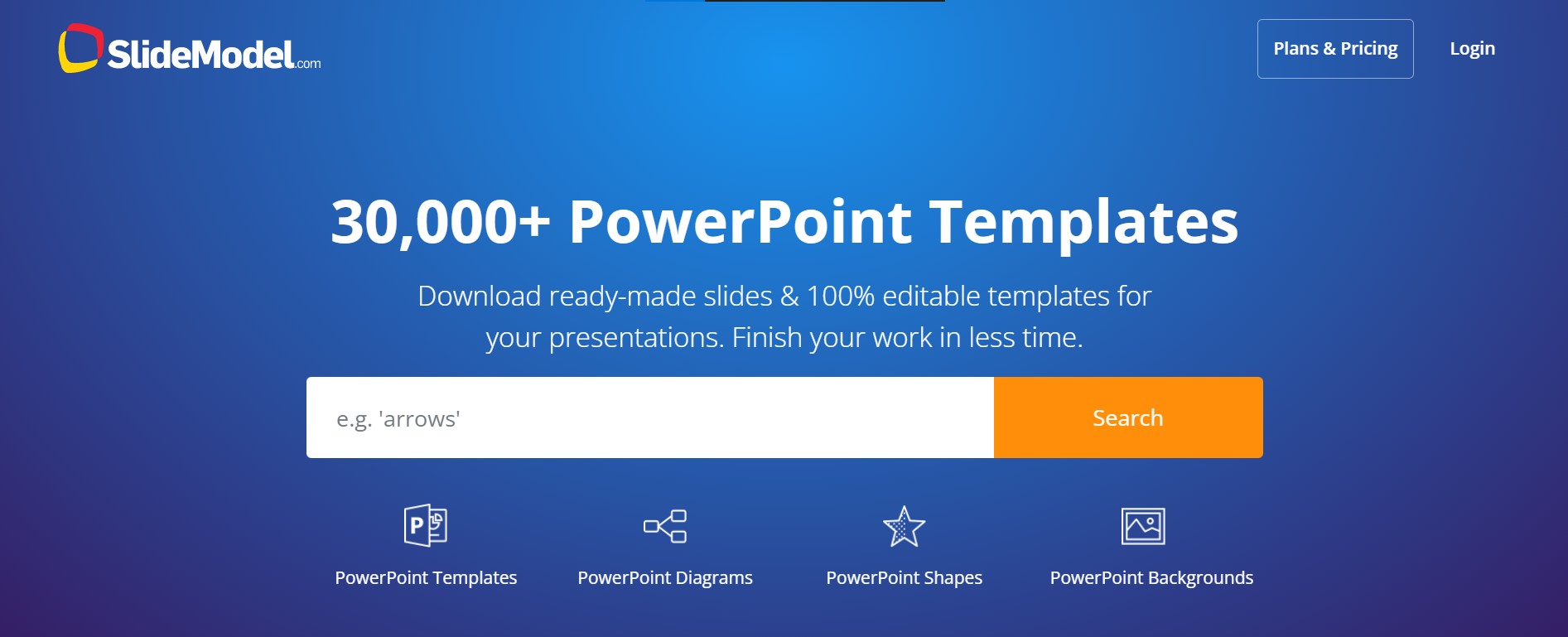 If you are a business professional, then I guarantee you might have heard of Slidemodel. It's a leading provider of editable presentation templates. Here at Slide model, you access high-quality professional presentation templates aligned with modern and current market needs.

Presentermedia is a one-stop destination for all presenter's needs. Here, you will find free and premium quality PowerPoint templates, Google slides, animations, cliparts, videos, etc. So, check out presenter media for amazing designs and create outstanding presentations every time.

Looking for some fabulous templates that take your presentation to a new level of success. Then Slidewin is the perfect option. Slidewin is a website that offers free PowerPoint templates and Google slides themes. Here you will get templates related to various categories, including education, medical, religious, and much more. Moreover, you will find helpful tutorials and tips using which you can be more effective in presentation.


Selected as 2022 best tool for teaching and learning by ASSL. Slidesmania is the best platform for learning; moreover, here, you will find the best presentation designs available in PowerPoint and Google slides versions. It has a gigantic library offering templates related to certificates, geometrics, space, technology, planners, games, etc.

I still have not found the best Slidesgo alternative, so I bet Slides Carnival is the perfect option for you. Here you will find tons of templates for your Microsoft PowerPoint and Google Slides presentations. If you are a start-up, then SlideCarnival is a must-try website for you, as it has got immense options for you. Using this, you can seamlessly create a presentation that looks neat and appealing.

Another great source for a powerful template is hislide.io. If you are looking for corporate templates with a sorted library, this will be an excellent option. It also provides you with the option to integrate Excel into your presentation so you can easily add all your charts, graphs, and other stuff.

if you are a corporate looking for some professional and sophisticated designs, then a Pitch deck is what you should try on. Here you can create your next presentation with an AI-powered online pitch deck tool or get the customized one to rock your next meeting. One biggest flaw of this platform is you need to use your corporate email id to log in.

As the name suggests, Template Monster offers a gigantic library. It's a vast and rapidly expanding marketplace where you find everything for designing an awesome presentation. Some of the product includes website templates, WordPress themes, graphics, and more. With these templates, you can build a solid brand image and make your business stand out.

PSlides aims to create the most spectacular slides that impress your audience, communicate with them, and get you the desired result. They also have a custom presentation deck, where you can share your ideas and thoughts and interact with the audience.

Looking for charts and visuals for your next presentation, then Vizzlo is the best online application that allows you to generate stunning charts and corporate visuals. Moreover, you can upload your organizational design fonts, colours & icons to the template keeping your team members in the loop. This tool also gives you the option to add teammates and let the creativity flow. Plus, you can check document history and identify who is working on which project.

With Prezi, employ animation, zoom and partial relationships that add life to your vision and become a better presenter. With Slidesgo, although you can create a video presentation, Prezi has WebEx, it's an advanced feature that makes a presentation more captivating. Here you can add your content alongside yourself, enabling you to make a face-to-face connection with your audience.

Powtoon makes video creation easy and hassles free. Powtoon is a video creation software that enables you to create professional videos in a minute that your audience will enjoy watching it. Powtoon lets you turn your data and communications into intense visual experiences. Moreover, it offers an intense level of security.

Next on our list is Padlet; unlike Slidesgo templates, which just offer presentation templates, Padlet is productivity software which can be integrated with other apps. Moreover, you can embed Padlet in your blog or site. Posting content is seamless just drag and drop. It also offers community support where you can interact with others and share your thoughts and ideas.
Conclusion
From the upshot of all the above alternatives for Slidesgo, in my view, SlideChef wins; it isn't because it's our website. Then why? First, it's entirely free to use and offers tons of high-quality PowerPoint templates and Google slides.
It doesn't end here; it has a well-categorized library according to industry, including Business, education, medical, modern, creative and many more. Plus, just by registering your email, you can receive a monthly update of our free templates.