What if someone asks what your business does? Would you be able to describe it accurately in a concise and compelling manner? Would your description inspire potential customers to learn more about what you have to offer?
You only get a few blocks of time in a day to convince your prospective clients, investors, and partners about the value proposition of your business and how your business is different from other businesses out there makes you stand out. If your writings fail to impress your audience, all your efforts will go in vain.
That's where the business one-pager comes in. A business pager is a single-page document containing detailed information related to your business which helps make communication easier and delivers essential information in a few lines of text that's easy to understand. Corporates use business pagers to consolidate knowledge and make it available in a palatable form.
What is a One Pager?
As the name suggests, the one-pager template is a single page marketing material used to demonstrate your business overview or your product or service information on a single page. Moreover, it can be used as a new-age brochure. A business one-liner is a brief outline of your business, describing what it is about, what problem you will solve, what your needs are and what your audience can achieve from you.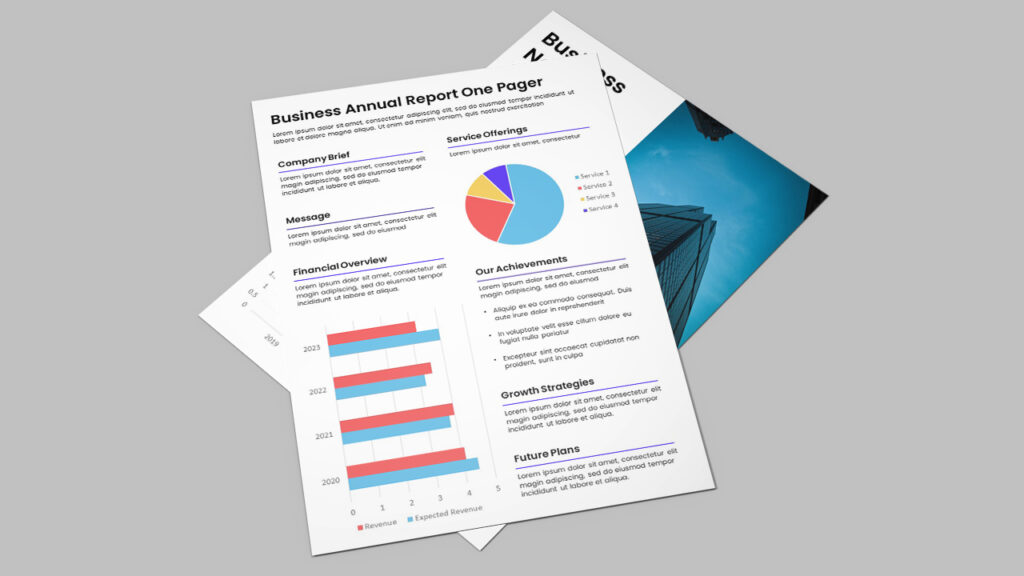 Basically, a business one-pager outlines critical points laid out in a few lines of text and with high visual impact. Managers and executives use business one-pager for business reports, project rationale, executive summaries, and other corporate informational assets.
Other crucial topics that can be included in the one-pager includes:
Information regarding your team
Business Model
Your Target Market
Your unique selling propositions
The business's next move or future financials
Companies' achievements.
Note: While creating a business one-pager, you should take extra care that your one-pager should be clear, crisp, and concise. Crucial information should be displayed using creative visuals to emphasize its importance and engage with your audience.
Why is a Business one pager important? 
Once you have been doing formal paperwork for years, the benefits of a one-pager are apparent. People newer to the concept might be keen to know its relevance and what makes them essential. What makes one-pagers so important.
As your business expands and your audience grows. You will need an arsenal of materials to explain your offerings. 1 pager quickly allows you to distil several ideas about your products or services into a single page to make the audience interested to learn more.
Let's discuss some of the benefits of one-pager:
Helps Save A lot of Time: Your clients, investors, and partners are all busy people. Time is the most asset for them, and they don't want to spend it reading a 100-page document; that's where one-pager has the advantage. It has the ability to save hours of time for the reader.
One-Pagers are Easy to Understand: One reason that makes one-pager a standard document for corporates is it's easy to read and understand. One-pager is used for advertising or marketing content using flyers, banners & summarizing information for ease of reading.
Provides Clarity: One-pager forces the readers to compress your long business details into a single page that primarily focuses on important points. It also improves the ability to pitch your ideas quickly and effectively.
Because No One Likes Reading Lengthy Documents: One-pager are crucial for formal communication; they can also help rationalize it. Business one-pager helps reduce tons of paperwork. Moreover, it isn't humanly possible to read the amount of content made in reports, manuals and forecasting. This information can be crucial to cater to legal and official needs such as taxation, customer support requirements and complying with laws.
Tips for Creating Professional Business One-Pager 
Want to design an amazing one-pager that makes you stand out, which is easily understandable and concise. Then there are a few points to bear in mind while writing a one-pager briefing on your company's product.
A4 Format or Equivalent: What's the most important thing in a one-pager? If you say "content", you are right but think again. "Content" is obviously the king, but the way you represent it is more important. Using A4 size or equivalent is the most common for most documents. Where text is smaller & saves space and cost, companies might use a different size for their flyers. The size of the one-pager might differ depending on the purpose.
Printable Format: Your one-pager document needs to be in printable format due to multiple reasons. People usually print them to read when free with concentration. In marketing, the need to publish a one-pager advertisement is to distribute it physically. Even if it's digitally distributed, having a printer-friendly format would be great. The most common format used is PDF, MS Word, or Open Office supported formats.
One-Sided Only: As the name suggests, one-pager, your document shouldn't exceed the size. It's suggested not to print on both sides as it compromises the readability. If your page document increases due to formatting or printer settings, then adjust it by editing page orientation or printer setting to ensure it prints on a single page.
Good on Page Content Distribution: One-pager is meant to be written on a single page. One-pager is meant to be easy to read and understandable.
Conclusion:
One-pager is a prominent marketing tool; it's a compact yet informative page that distils your business down into its core value – what it provides, why it provides and how to benefit or solve pain points. It's a powerful piece of content that you can use time and time again. If you are looking for creative templates, refer to our blog, "Best Creative Presentation Templates to Download in 2022."
If you have a new project or are interested in designing an amazing one-pager that creates a lasting impression, then here we suggest a few best one-pager examples that you can download easily and save time when working with tight deadlines.