What do you do before joining any organization? You might check out their Facebook or Instagram pages to look over their work culture, team bonding, and much more.
Teamwork and collaborative efforts are incredibly important for growth, quality, morale, and retention. Teamwork and collaboration have positively impacted the growth of an individual and the performance of the organization. Collaboration between colleagues ensures that information, resources, etc., are shared amongst the group to benefit of everyone involved.
2021's Best Teamwork and collaboration Presentation Templates
Teamwork and collaboration are hot topics to discuss. Today the teams aren't the same as it used to be in the past. Teams have now grown to be more powerful, diverse, digital, and dynamic. But as they face new challenges, their success hinges on the core set of fundamentals for group collaboration and teamwork.
So, let's discuss and educate colleagues, team members, and the audience about the importance of teamwork and collaboration using these top-notch teamwork and collaboration PPT slides.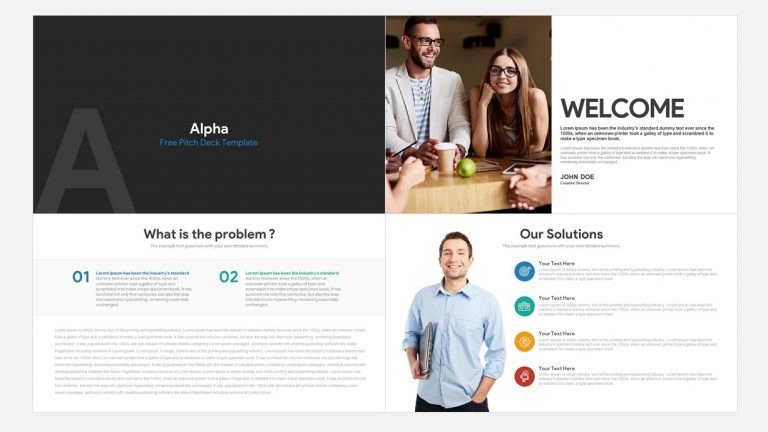 With our Alpha Free Pitch Deck PowerPoint templates, give your presentation the professional aura it requires. With these modern, sophisticated, and noteworthy designs, communicate your ideas, team building, and management strategies flawlessly.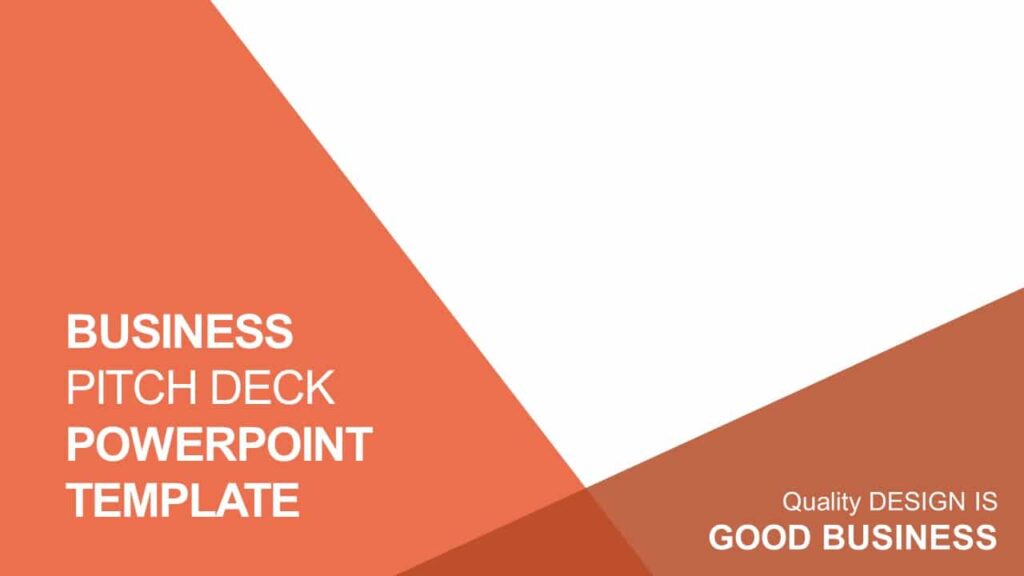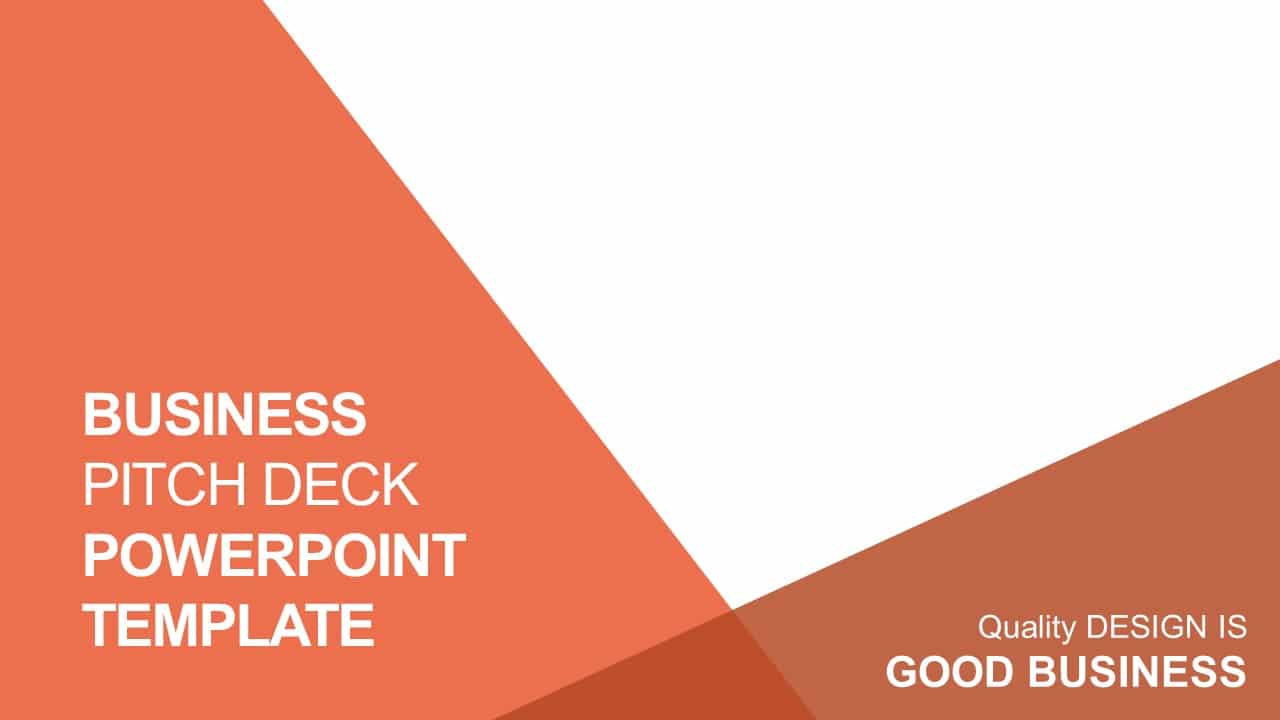 While seeing the best presentations, you might have dreamt of crafting one such presanction. Give your dreams an action with these free business pitch deck PowerPoint templates. Have a business idea? Is the client's meeting approaching soon? Need to raise investments for your ideas? Then you are in the right place. We will assist you to impress your audience. These business pitch templates boost your business ideas among your audience and showcase why it's worth investing.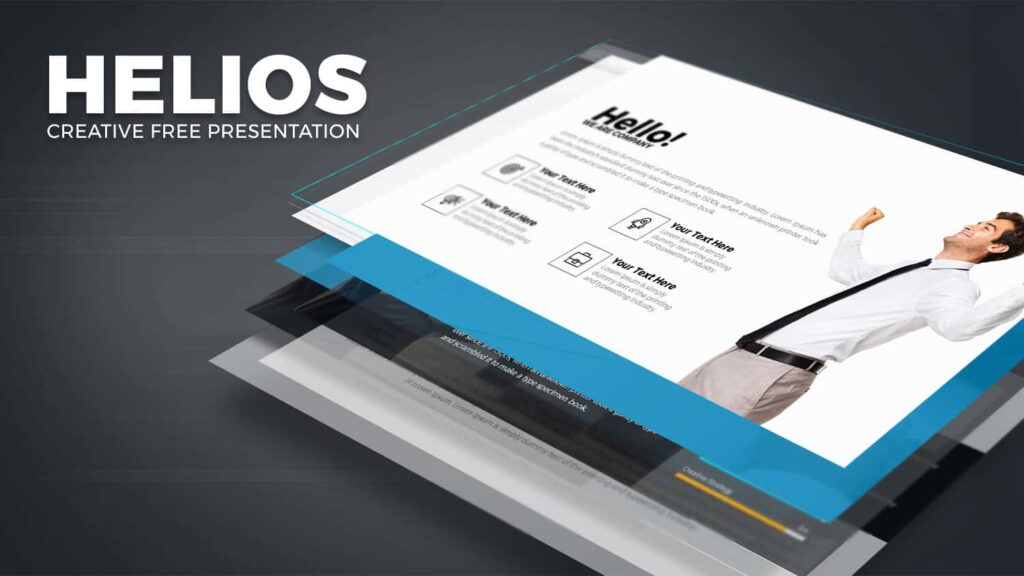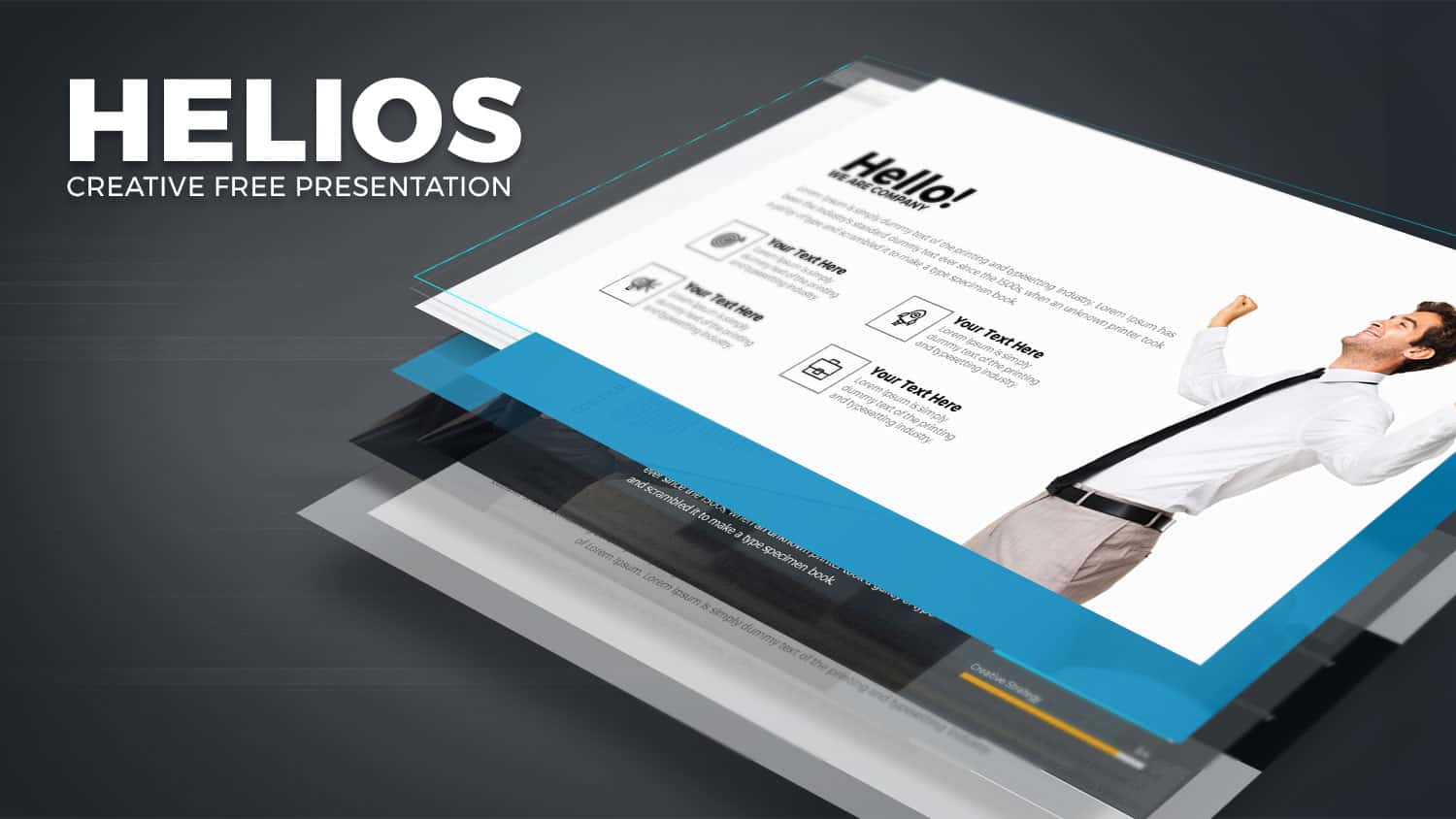 Helios free Team Building PowerPoint template by Slidebazaar is a complete presentation deck that includes a set of free PowerPoint templates. The users can download business and academic presentation templates under a single platform. The integrated ppt diagram contains 21 different slides including the opening slide. A powerPoint presentation will ensure audience participation because of the difference in style and tone.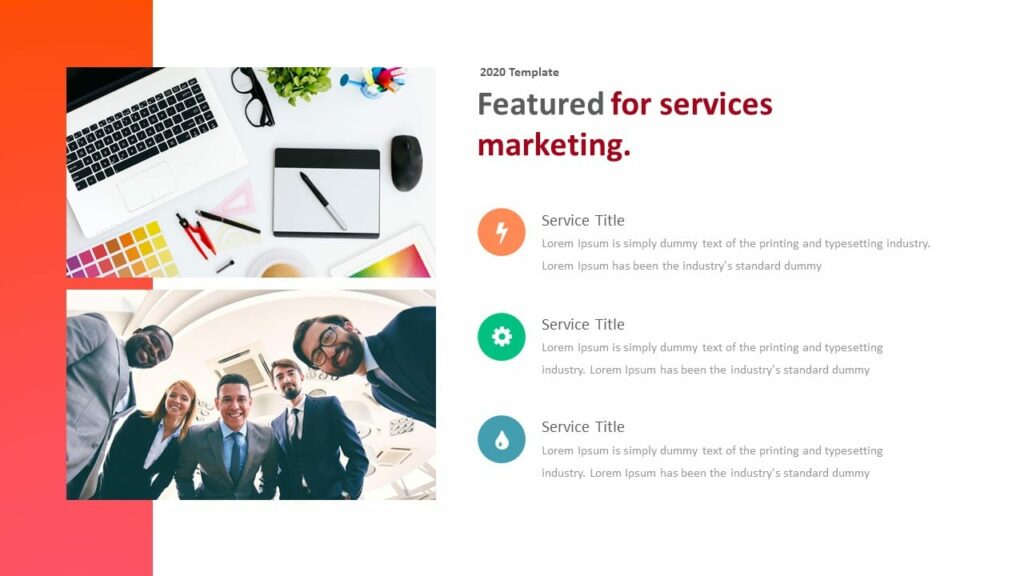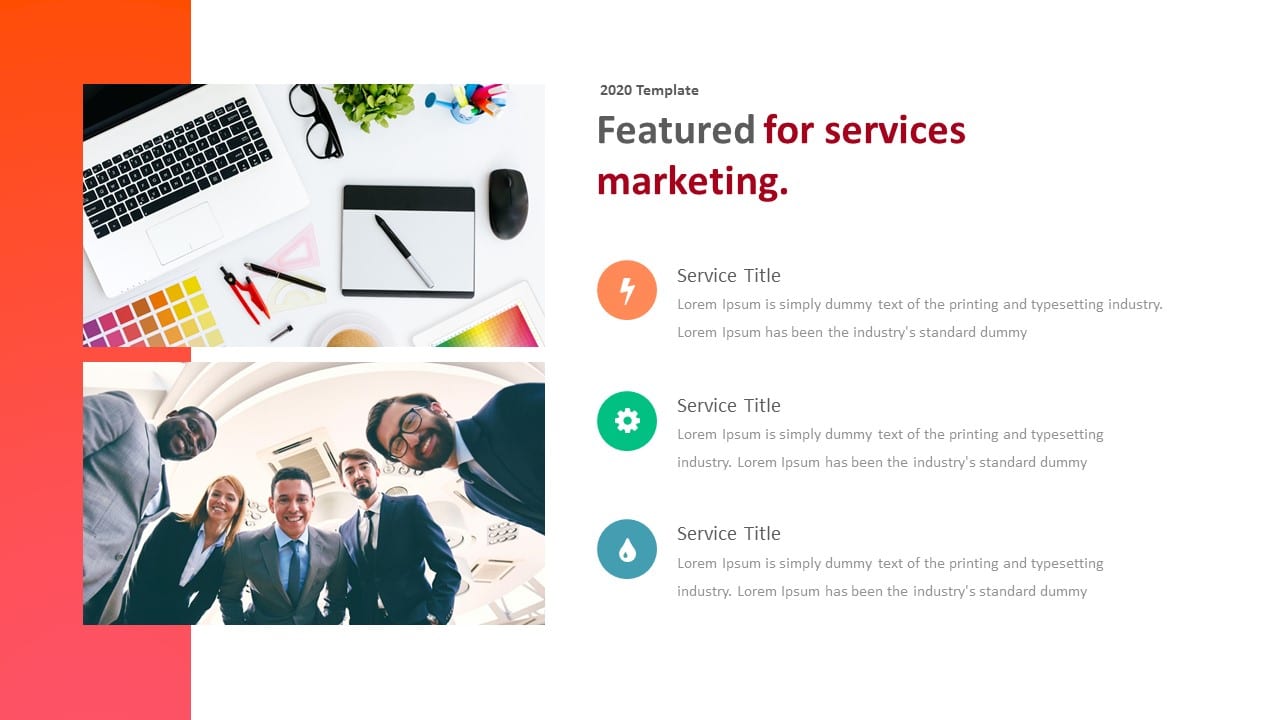 The team is the core of successful business management. Nowadays, teams are facing an increasingly high set of challenges. If the manager understands what factors are impacting the business, they can focus on getting them right. These free teamwork presentation corporate templates by Slidebazaar are a significant tool for redistributing tasks among employees, implementing strategies, discussing plans, and so on.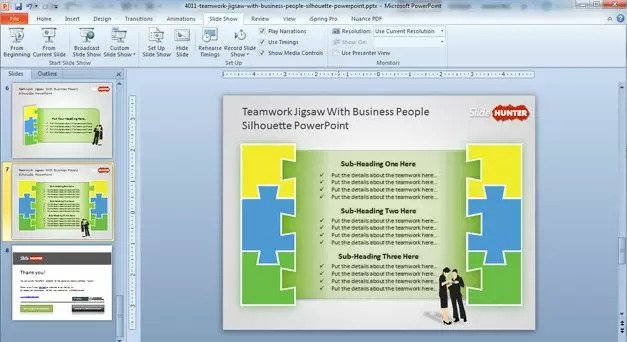 These free teamwork PowerPoint templates by Slidehunter are awesome presentation slides for teamwork and collaboration-related presentations. The template includes compelling designs and backgrounds, which will surely engross the interest of your audience.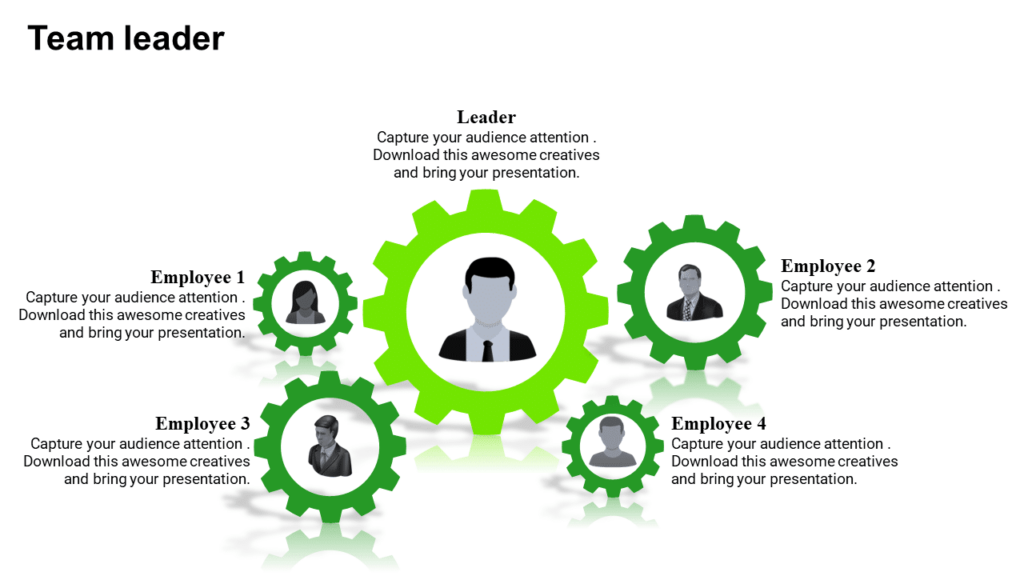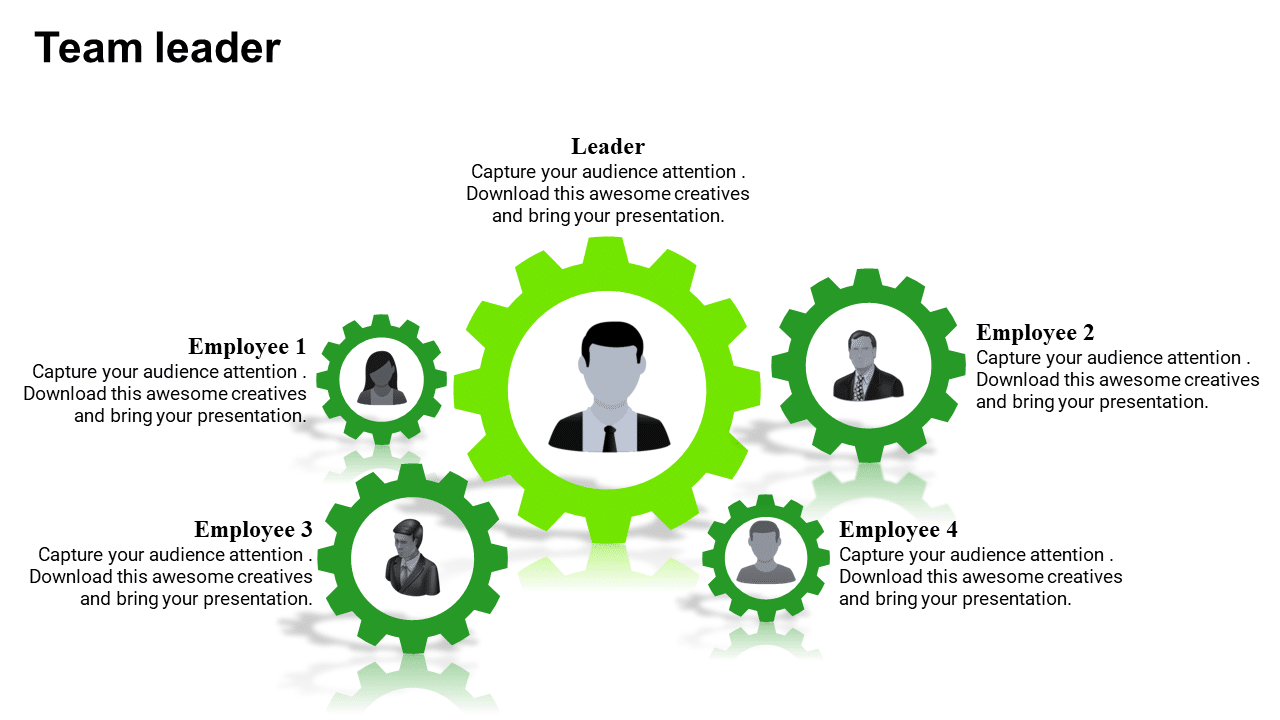 Workplace collaboration takes into account employees, opinions, ideas, experience, skills, etc. When a group works collaboratively, their work efficiency increases, they are more aligned towards their goals, and they have a higher success rate. This free leadership team building template by Slideegg is best suited for representing teamwork, leadership, togetherness, etc.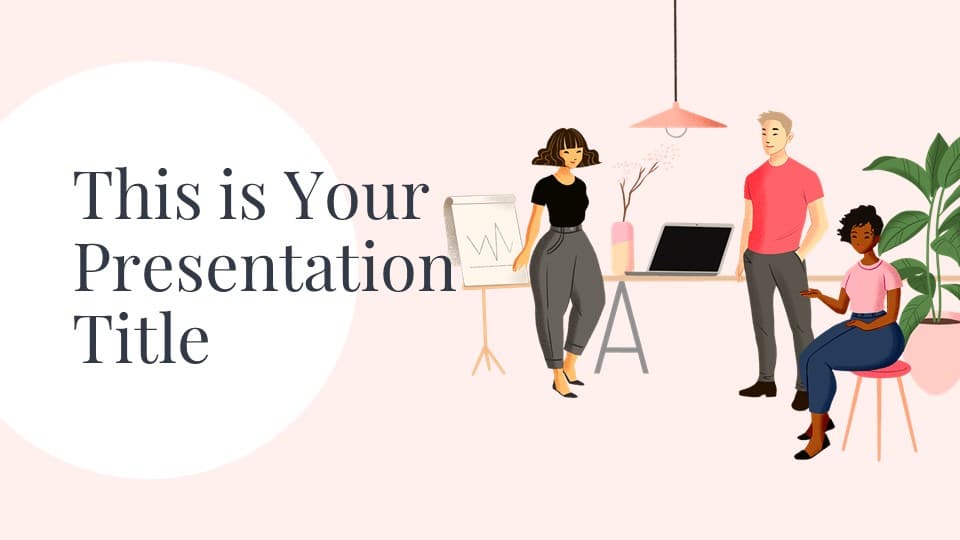 Clean Team Work Free PowerPoint Templates & Google Slides by Slidecarnival is a perfect multi-purpose template that you can use to communicate ideas, collaboration strategies, group tasks, etc. The selection includes 25 slides in a catchy color scheme, text & photos which makes your presentation standout.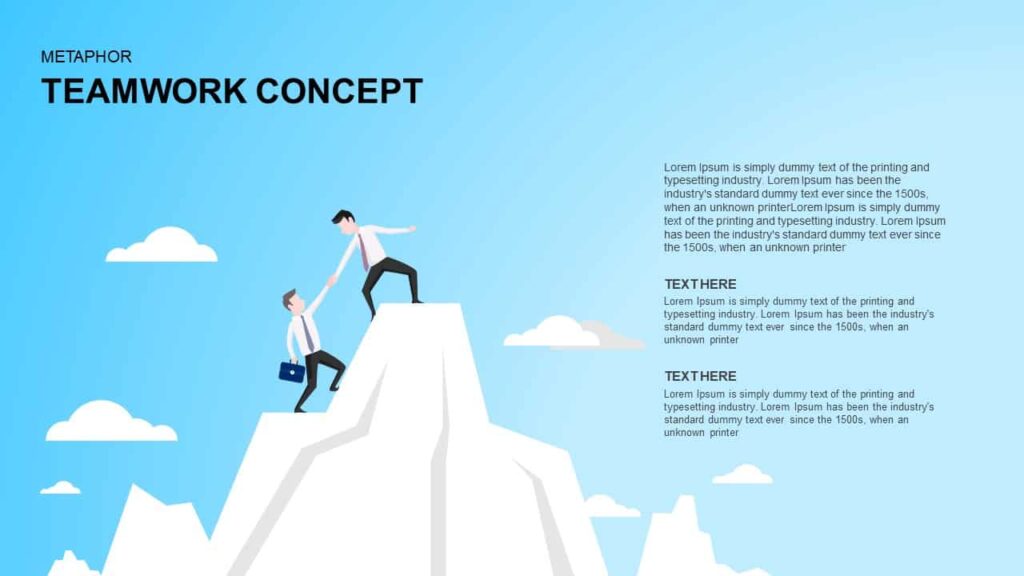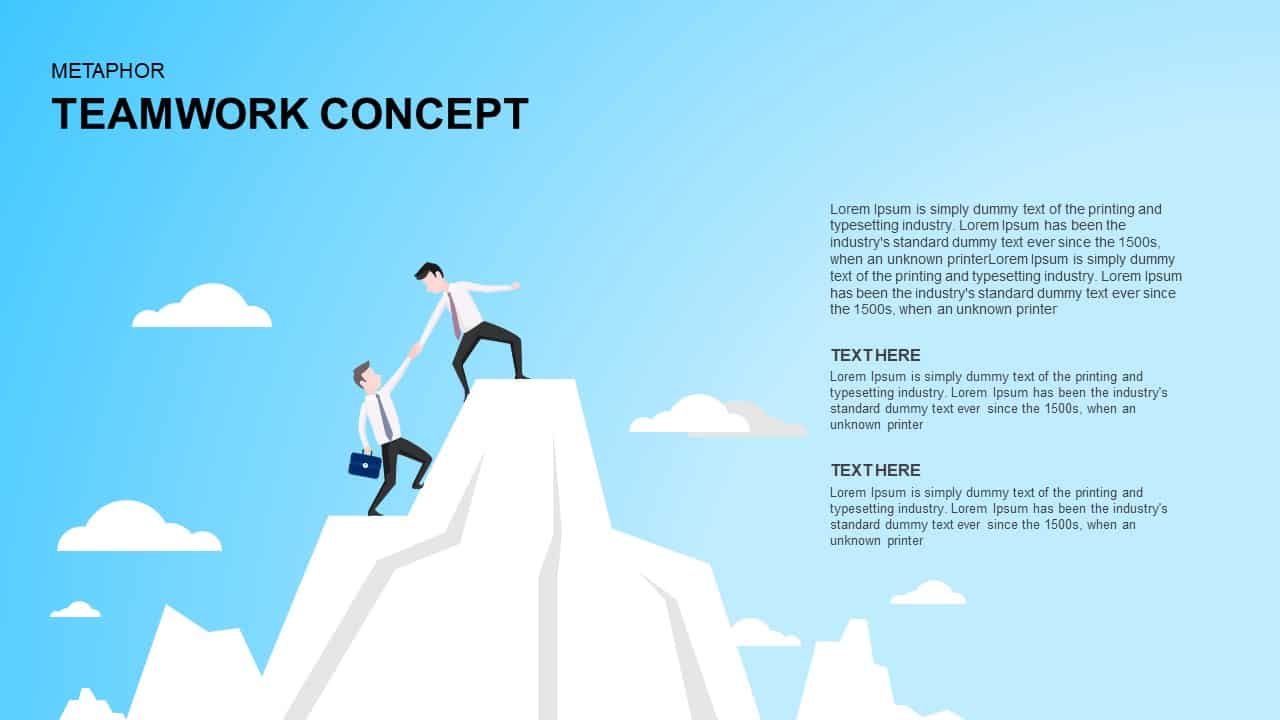 The teamwork concept PowerPoint template by Slidebazaar is an astonishing slide representing the importance of teamwork and spirit to achieve the desired goal. Individuals associated with management, sales, marketing, sports, and education can use these teamwork PowerPoint presentation templates. The template features a catchy view of an executive helping others climb the mountain, and the concept guarantees to capture the viewers' attention. You can download the template just by buying monthly membership of $9.99 & you can get access to 100 premium templates too.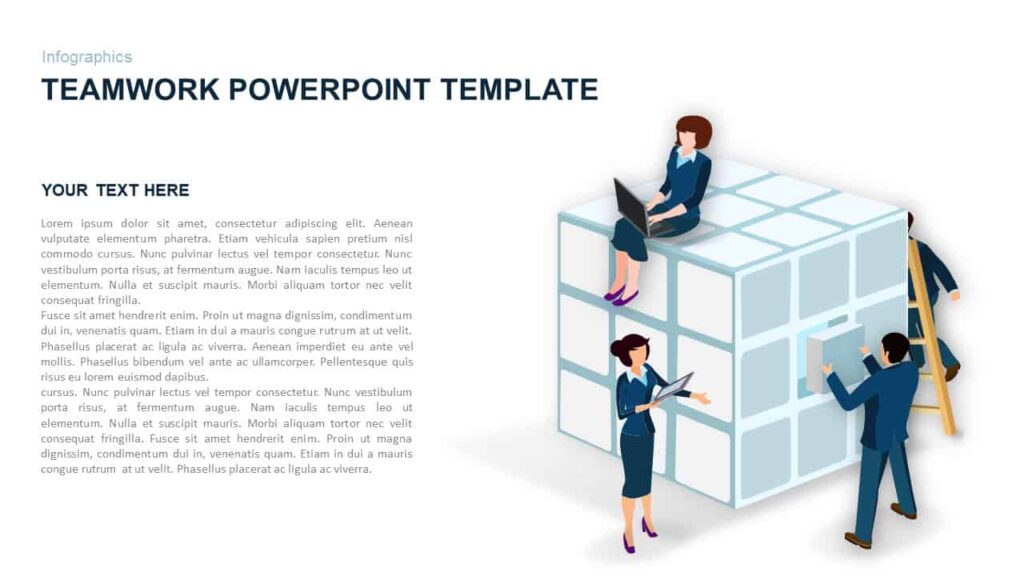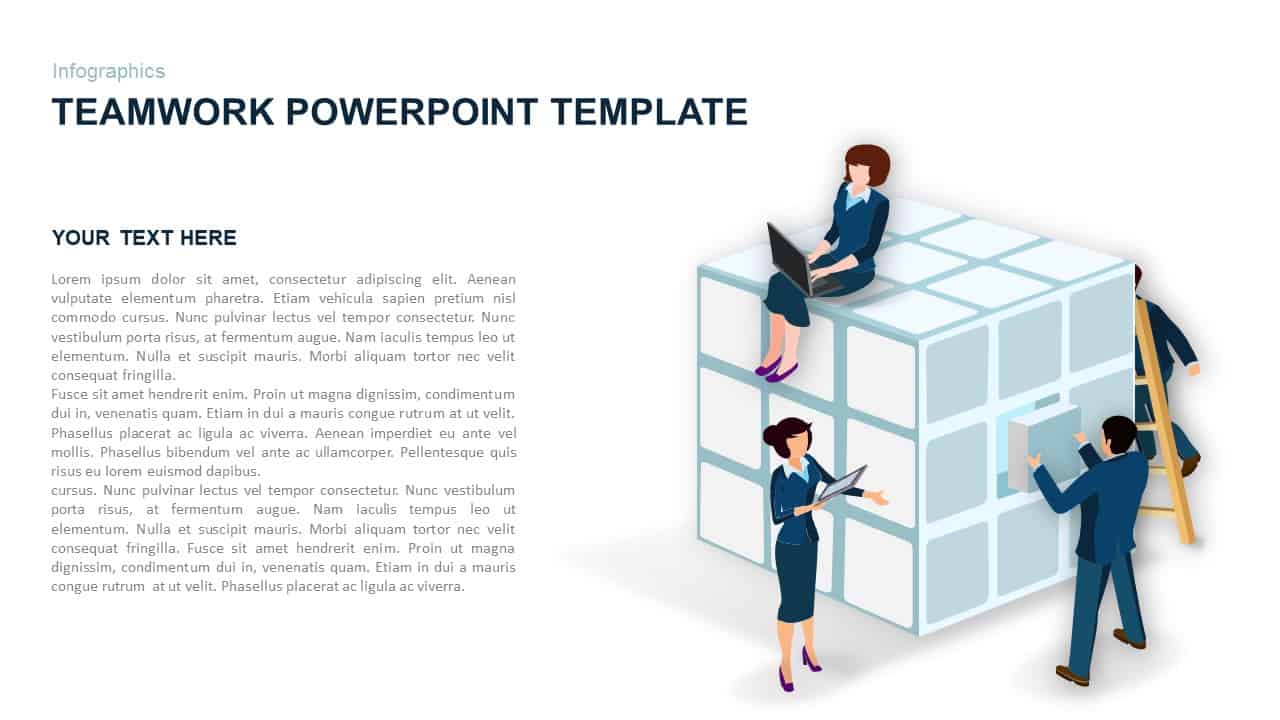 Teamwork and collaboration is the most crucial ingredient for successful business management. And this teamwork PowerPoint template and Keynote slide showcase how group involvement is pivotal in achieving the desired goal. Teamwork empowers a group in achieving extraordinary results. Use these teamwork PowerPoint templates and Keynote slides to build a sense of belonging among colleagues, improvise communications, idea generation, and so on. You can download the template just by buying Slidebazaar monthly membership of $9.99 moreover, you can get access to 100 premium templates.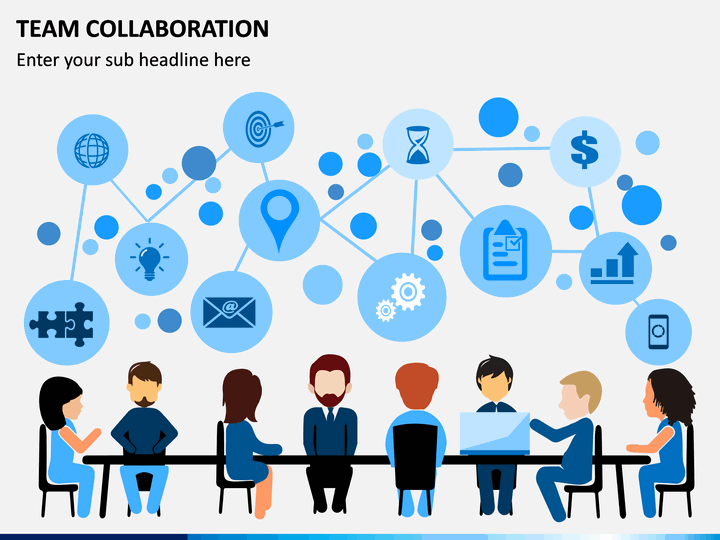 In a team, there isn't "My" or "I," that's why it's crucial to work together, rather than working individually. While everyone is standing on the same front, project completion becomes easy and convenient. Use these team collaboration PowerPoint templates by Sketchbubble to visualize your content related to team-building, teamwork, collaboration, and so on. This collaboration template in Microsoft PowerPoint, Google Slides and Apple Keynote versions. You can download the template in the monthly membership of $ 49.95.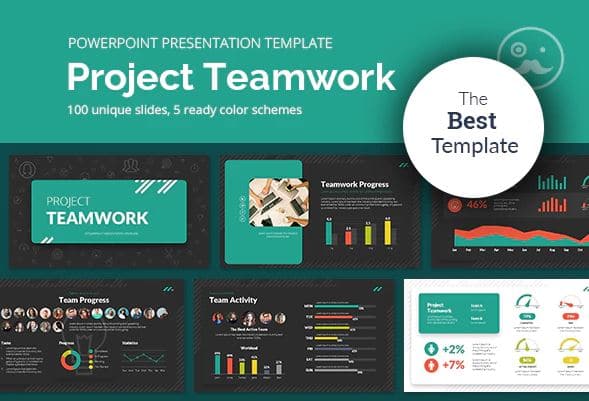 Have you been part of a big or efficient team? Then you might have noticed teamwork and collaboration is what successfully aligns your team. Use these project teamwork PowerPoint presentation template to represent your data and findings magnificently. It's a premium presentation template that you can download in just $12.
Why Teamwork & Collaboration is Important?
According to a study, a company promotes a healthy work environment and collaborative work efforts and is likely to be five times high performing than those that don't.
According to Social Market Foundation research, happy workers can boost productivity by 20% then unhappy workers. American workforce in January 2019 included 128.17 million employees. Assume the benefits of having one-fifth of full-time working harder as they are happy. It will elevate overall increased productivity from 25.634 million employees.
So, what is a happy work environment? Happy work culture is an amalgamation of collaborative team efforts with having stronger collaboration skills.
Teamwork and collaborative effort can uplift every member of the team to the next level. If you are stuck with the ongoing project, ask your colleagues for input so you can end up project successfully.
Teamwork and collaboration are crucial as other project aspects such as project risk assessment and a workflow analysis. Yet, it is forgotten in lieu of other project-oriented tasks.
It's a common trend now. Now people seek more for a company with the happier work culture and a healthy work environment rather than pay higher pay scale, designations, or whatsoever.
No business could succeed without effective collaboration at the workplace. According to facts, 86% of employees and employers state that teamwork and collaboration are the sole reason for workplace failure. Predominantly it's strenuous to succeed without a good team and collaboration.
A potential team naturally builds up when it has the right members and effective collaboration skills. Teamwork and collaboration are the keys to management success. And today we are trying to acquire is everywhere, because together we achieve more. Having a good team is the route to success.
In today's intensely competitive world, team-building and collaborative efforts have never been easy; even it got more complex in recent years. The trends will get more intense because teams are increasingly becoming global, wider, and project-driven.
With a systematized approach, you can analyze how your team is set up to succeed in the future. And while determining those factors, you can identify which areas improvements are needed.
Conclusion:
Teamwork and collaboration can be major differentiators between a successful and unsuccessful organization. But with effective teamwork and collaboration strategies, you can extract the most out of your team members and grow a big empire.
With these teamwork and collaboration PowerPoint templates, get ready to demonstrate the team working and collaborative effects with the team and colleagues, which will abet in resolving internal conflicts, managing egos, enhancing communications, and committing to each other and a common goal.